Wales could spend £2.3bn on student grants in 9 years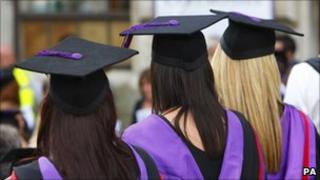 The Welsh Assembly Government could spend over £2.3bn on student grants in the next nine years if universities charge the maximum fees allowed.
Last month, BBC Wales revealed the cost of the grants would be £1.5bn, based on average fees of £7,000.
But new higher estimates have now been released based on fees of £9,000 per year.
The assembly government said all its planning continued to be on the basis of £7,000 fees.
Under the new estimates, £286m would be spent on grants in 2015, the first year that all students would be eligible, £100m more than the previous estimate.
In addition, £81m rather than £50m of assembly government funding would flow in to English universities in 2015, as students from Wales opt to study over the border.
From September 2012, tuition fees at Welsh and English universities will increase but students from Wales will be subsidised by the assembly government wherever in the UK they study.
This means they will pay no more than they pay now.
BBC Wales requested details under the Freedom of Information act on the cost to the assembly government of the new tuition fee grants, however only calculations based on average fees of £7,000 were provided.
Education Minister Leighton Andrews then told BBC Radio Wales' Good Morning Wales programme that officials had also costed the policy based on average fees of £9,000.
The information has now been released in a written answer to Welsh Liberal Democrat education spokesperson Baroness Randerson.
The calculations consider a situation in which fees at Welsh and English universities are set at £9,000.
However, they do not evaluate the effect of average fees being higher in England than in Wales, which may lead to a shortfall in university funding.
The minimum rate of tuition fees in Wales has been set at £4,000, with universities able to charge up to £9,000 subject to certain conditions.
In England, universities will be able to charge between £6,000 and £9,000.
Exeter University has now joined Imperial College, London, and the University of Cambridge in stating its intention to charge maximum fees from September 2012.
Baroness Randerson said: "The earlier announcement that some universities [in Wales] could charge as low as £4,000 could mean that there is a bigger differential than we previously thought.
"Higher average fees in England will potentially mean that more money is going to English universities than is coming from English students to Welsh universities.
"If increasing numbers of students go across the border, increasing amounts of money could come out of the [Welsh university] teaching grant and into English universities.
"This will have a direct impact on the quality of Welsh universities."
The assembly government has emphasised that all its planning continues to be on the basis of £7,000 fees.
'Social justice'
It said the cost of the grants would be offset by cuts of 35% to the university teaching budget, while institutions would be expected to benefit from additional income generated by charging higher fees to students from England, Scotland and Northern Ireland.
In a statement in February, Mr Andrews said: "Central to the Welsh Assembly Government's policy is the principle that access to higher education should be on the basis of the individual's potential to benefit, and not on the basis of what they can afford to pay.
"The decision to set the basic fee level at £4,000 reflects the importance the Welsh Assembly Government places on the contribution which higher education makes to social justice.
"The requirement for institutions to have an approved plan in place, in order to charge tuition fees above the basic rate, will build on existing voluntary arrangements.
"This will help ensure continued action from Welsh institutions to pursue equality of access to, and promotion of, higher education."