WRU warns of scam using president Dennis Gethin's name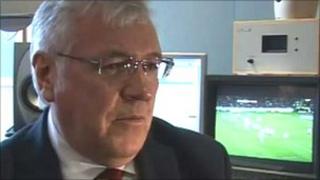 The name of the Welsh Rugby Union president is being falsely used in an "appalling and cynical" scam targeted at young players, says the WRU.
E-mails have been sent to players around the world asking for money and promising professional rugby for a new club in Canada.
The WRU said an internet account had been set up using Dennis Gethin's name without his permission.
It has warned players not to respond "under any circumstances".
"This is a cruel scam which attempts to obtain money by conning ambitious young rugby players into parting with money in order to achieve their dream of securing a professional playing contract," said a WRU spokesman.
"To use the name of the president of the Welsh Rugby Union in this way is an appalling and cynical crime."
The messages, which promise attractive salaries, initially request CVs and more personal information.
They finally ask for money to obtain official documents which would allow the player to travel to Canada and work.
The emails are addressed to individuals by name and falsely claim to have been written by Mr Gethin on behalf of a new professional rugby club in Canada which needs to recruit players.
The WRU said the internet account had been set up entirely without its approval or Mr Gethin's permission.
"I have been informed of the existence of these e-mail messages but they have absolutely nothing to do with me and have been sent without my permission," said Mr Gethin.
The WRU said it had been contacted by individuals who had received the emails and wanted to check their authenticity.