Arriva Trains Wales rail dispute talks end with no deal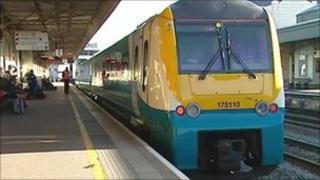 Talks to end a dispute that is set to see Arriva Trains Wales services across Wales and the borders halted this Sunday have ended without agreement.
A two-hour meeting between rail union Aslef and Arriva Trains Wales (ATW) broke up with no deal.
Aslef said ATW negotiators were not prepared to wait for them to take an improved offer back to their members.
ATW said: "Communication channels will remain open should Aslef wish to return to discussions."
The dispute, which centres on train drivers' pay and conditions, and Sunday working arrangements in particular, saw Aslef-member drivers hold a 24-hour walk-out on Monday.
The day before the walk-out, the rail union imposed an overtime ban on Sunday working. A second overtime ban is in place for this Sunday.
ATW has already said none of its services would run this Sunday, but a limited bus service would be operated.
'Inconvenience'
No other train operator services in Wales will be hit.
ATW has said its pay offer of 12% over two years would bring drivers' salaries to £39,117 for a 35-hour, four-day average week.
Aslef said its members were paid less in Wales than drivers in England and the offer was £39,000 for a 46-47 hour, five-day week.
Following the break-up of Thursday's negotiations, ATW said: "Regrettably, progress has not been made."
Peter Leppard, operations director of ATW, added: "We are sorry for the obvious inconvenience this will cause to passengers but continue to urge Aslef to suspend their action and accept this generous pay offer."
Industrial action
Aslef is expected to comment.
On Friday, the union's executive committee is to meet, after which further industrial action may be be announced.
For service updates customers are advised to check the Arriva Trains Wales website - www.arrivatrainswales.co.uk or contact National Rail Enquiries on 08457 48 49 50.