Voters go to polls in Welsh assembly powers referendum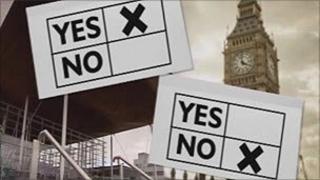 Polls have opened as voters in Wales decide in a referendum if the Welsh assembly should have direct law-making powers.
At present the assembly can pass legislation in 20 devolved policy areas, including health and education.
A Yes vote would mean it no longer needs to apply to parliament for law-making powers on a case-by-case basis.
Voting is until 2200 GMT. The count starts on Friday morning, with a final result likely in the afternoon.
A No vote would keep the existing system, while a Yes would mean the assembly can pass laws without first seeking consent in Westminster.
However, if there was a Yes the assembly would not gain powers over new areas.
The referendum was a key part of the coalition deal struck by Labour and Plaid Cymru after the last assembly election in 2007.
An Electoral Commission booklet on the referendum has been distributed as part of the watchdog's duty to inform the public.
Results from the 22 local authorities will be collated at a central count at the assembly's Senedd building, in Cardiff Bay, from Friday morning.
BBC Wales will have comprehensive results coverage on Friday on the News website, TV and radio.
The News website will include a match report-style live page, continually updated as counting goes on.
On TV, Referendum 2011 - The Result, presented by Jamie Owen, will be on BBC One Wales from 1030 GMT, it will switch to BBC Two Wales, and will continue on BBC One Wales until after the final result.
S4C will show Refferendwm 2011 from 1030 GMT to 1600.
There is also coverage from 1100 GMT to 1500 GMT on BBC Radio Wales and 1105 GMT to 1530 GMT on BBC Radio Cymru.