Fathers' community order for fatal crash driver assault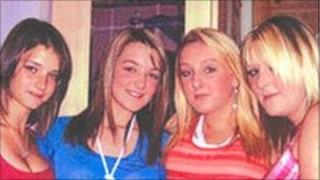 The fathers of two schoolgirls killed in a car crash four years ago have been given community orders after threatening the driver in a restaurant.
Richard Caswell, 41, and Steven Roberts, 50, of Ebbw Vale, Blaenau Gwent, admitted confronting Craig Ramshaw, 21, and members of his family.
Their daughters, Danielle Caswell and Katie Roberts, both 15, were among four girls who died in the 2006 crash.
Caerphilly magistrates heard both men regretted their actions.
The pair were ordered to each pay £85 costs at the sentencing on Wednesday.
They were also banned from approaching the Ramshaws.
The court heard the men had attacked Mr Ramshaw, his mother and his stepfather after accidentally meeting them at the Brewers Fayre restaurant in Ebbw Vale in October 2010.
It was the first time the men had met Mr Ramshaw since their daughters had died, alongside their friends Louise Jones and Kayleigh Parry, both 16, in the crash on a mountain road in November 2006.
Mr Ramshaw was later cleared of causing the girls' deaths by dangerous driving.
He was convicted of the lesser charge of careless driving and received a conditional discharge and a two-year driving ban.
At a hearing last month Caswell admitted assault and threatening to kill Mr Ramshaw.
Roberts admitted assault and a threatening to kill his step-father Neil Harvey.
Llyr Williams, defending Caswell, said: "It was the first time he had encountered the driver of the vehicle in which his daughter was killed.
"It was a chance encounter and things were said which he regrets but this had been welling up inside him for a number of years. He gives his word it won't happen again."
Frank Whittle, defending Roberts, said neighbours had signed a petition supporting his client saying "he would not hurt a fly".
'Suffering'
Mr Whittle said: "The incident was set against a background of a terrible loss of a family struggling to come to terms with it.
"Mr Roberts deeply regrets his action and he will not get into this situation again."
After the hearing Roberts' wife Sian, 50 said: "It was a natural reaction of my husband at the loss of his little girl for which he has been suffering every day since the tragedy happened."