Newport M4 delays from over-running roadworks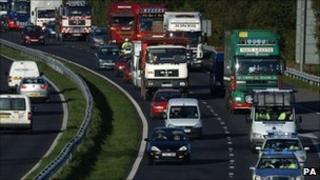 Over-running roadworks and a broken down lorry caused seven miles of tailbacks on the M4 on the outskirts of Newport on Thursday morning.
The M4 westbound sliproads have re-opened following over-running roadworks at junction 27 B4591 High Cross.
The roadworks and an earlier broken down resurfacing vehicle westbound between J26 Malpas and J27 caused tailbacks as far back as J24 Coldra.
Traffic Wales said the travel time was up to 45 minutes.
An assembly government spokesman said: "Essential roadworks to repair the surface of the M4 near junction 27 over-ran due to one of the resurfacing machines breaking down.
"All three lanes are now reopen and we apologise for the inconvenience caused."