St David's Day could be made Welsh bank holiday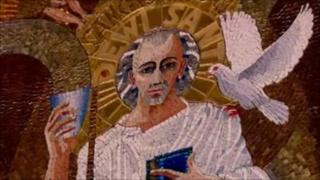 The Welsh assembly could gain powers to make St David's Day a Bank Holiday, under new proposals.
The UK Government is to consult AMs on giving them the option of moving the early May Bank Holiday to coincide with St David's Day.
It is part of a tourism strategy for Britain published on Friday.
However. it comes only 48 hours after one minister stated he believed the subject should be decided by parliament.
The 50-page strategy from the Department for Culture, Media and Sport, sets out options to either bring the current May Day bank holiday forward, or to take the holiday in the autumn.
The new bank holiday could mark St George's Day in England on 23 April, while in Wales it could be taken on 1 March, or St David's Day.
If the autumn option was considered, it could become a new UK national holiday, the strategy suggests
This could either by a "UK Day" to create a new 'national day' or it could commemorate military victories like Trafalgar Day instead.
UK Tourism Minister John Penrose, said either option could help lengthen the traditional tourism season in Britain.
"It would do more than simply give people a different date to take time off work: it would create a new reason for collective celebration and community co-operation," he said.
The UK government would "consult with the Welsh Assembly over giving them the power to decide whether or not to move the early May bank holiday to coincide with St David's Day on 1 March".
On Wednesday, Wales Office minister David Jones told MPs that parliament should decide about the bank holiday.
Impact
"To have a public holiday on St David's Day - attractive no doubt as it would be - would nevertheless not be at no cost at all," he told a Commons debate.
"In fact, it would be at considerable economic cost and that in the current straightened economic climate is something every responsible government needs to bear in mind."
Mr Jones said the UK government was not closing its mind to the idea of a holiday on 1 March as part of a UK-wide consultation on future bank holidays.
However, he claimed the cost to Wales would be in the region of £138m a year.
He also warned: "You can't really take Wales in isolation - there will be impact across the border."
Liberal Democrat MP for Ceredigion, Mark Williams, sponsored the MPs' debate over the bank holiday issue.
He spoke up in favour of the assembly gaining the power to decide.
"Scotland has used its power to designate St Andrew's Day as a public holiday, and I don't see why Wales should be any different," he argued.
"There are obviously concerns over the impact on businesses, and on cross-border issues, but I am sure that these can be addressed, given that many countries have regional holidays."
Assembly members voted in 2000 to back St David's Day as a national holiday in Wales.