Brecon regeneration warning if library building listed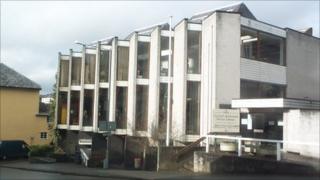 A multi million-pound regeneration of Brecon town centre could be derailed by last minute plans to list a 40-year-old library.
Historic monuments agency Cadw is considering listing the building because of its "special architectural interest".
Powys council wants to demolish it as part of plans to refurbish Brecon town centre.
The council and the national park have expressed their concern to Cadw.
Councillor Stephen Hayes, who is leading the project for the council, said: "We have been warned that Cadw is considering listing the library, a vital component in our regeneration plans, a move that could have serious consequences for the project.
"We want to revitalise the centre of the town and create a vibrant, thriving community.
"Our plans are well advanced and have been the subject of considerable debate and consultation in the town.
"It is really disappointing that at the 11th hour, out of the blue, we face the prospect of a key building being listed, a move that could prove a major barrier to the whole project."
A Cadw spokesman said listing was not a preservation order, but enabled changes to important buildings to be "carefully managed".
"Cadw has identified Brecon library possibly as a building of special architectural and historic interest and is consulting on whether it should be formally listed," he added.
"Cadw is well aware of the potential regeneration works and would want to discuss with the relevant authorities how this landmark building may be incorporated into those works."