Bow Street man convicted of 'savage' girlfriend attack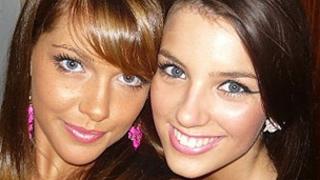 A man who kidnapped and "savagely" assaulted his girlfriend, which left her in a coma for a month, has been convicted at Swansea Crown Court.
Wayne Fox, 23, from near Aberystwyth, was found guilty of grievous bodily harm with intent for the attack on ex-girlfriend Tirion Lewis, 19.
He admitted kidnap, aggravated vehicle taking, actual bodily harm, grievous bodily harm and dangerous driving.
The case was adjourned for sentencing and Fox was remanded in custody.
Swansea Crown Court heard that Ms Lewis was in a coma for a month, and was so badly disfigured that paramedics could not tell if she was a man or woman.
The court was told Fox, a bare knuckle boxer from the village of Bow Street, had been diagnosed as a paranoid schizophrenic.
Ms Lewis had been listening to music with a friend, Miriam Evans, in her Ford Ka outside her family home, near Aberystwyth, on 2 September, 2009 when Fox stormed up to the car, the court heard.
He smashed his bare fist through the window before driving her and Ms Evans, 19, to forestry where he launched a "savage" attack.
The court was told that Fox began talking "nonsense" then said: "Why are you doing this to me?"
A statement Ms Evans gave to police was heard in court.
She told officers: "We were really scared - I was hoping someone would come and help us because we were both screaming.
"He reached into the car and unlocked the driver's door.
"He pushed Tirion over to my side of the car. I thought about getting out and could have if I wanted to but I didn't want to leave Tirion.
"We were holding onto each other screaming and begging him to stop. We didn't know what he was going to do."
Ms Evans added: "I could see Wayne punching and kicking Tirion on the floor.
"I was screaming and shouting at him to stop but he just carried on.
Broken pelvis
"When I realised he wasn't going to stop I tried to pull him off but he turned around and I saw the anger on his face and I knew I was in for it."
She said Fox punched and kicked her to the face before continuing his attack on her best friend.
She described how Fox sat on top of Ms Lewis and "just punched her non-stop".
Frank Phillips, prosecuting, said: "Paramedics said if they hadn't been told they were attending a female they wouldn't have known the sex of the patient - such was the extent of her injuries.
"A consultant at the hospital where she was taken said in his 23-year career he's never seen anyone so badly beaten."
Ms Lewis, a student at Aberystwyth University, was left in a coma for more than a month suffering from a brain injuries, a broken pelvis, kidney damage and blood in one of her lungs.
Swansea Crown Court heard that 18 months after the attack she was still suffering from problems with her memory and attention.