Aberystwyth attack victim's coma photo after verdict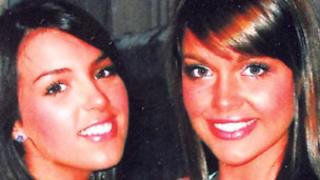 The family of a student attacked by her ex-boyfriend have released a disturbing image of her lying in hospital.
Tirion Lewis, 19, spent a month in a coma.
Wayne Fox, 23, from near Aberystwyth, was found guilty of grievous bodily harm with intent and is due to be sentenced later this month.
Swansea Crown Court heard that 18 months afterwards, Ms Lewis was still suffering from problems with her memory and attention.
Her best friend Miriam Evans was also attacked.
The families welcomed the conviction but said they were still affected "emotionally".
In a joint statement they said: "We hope he does not get the opportunity to do this again and ruin someone else's life."
Ms Lewis had been listening to music with a friend, Miriam Evans, in her Ford Ka outside her family home, near Aberystwyth, on 2 September, 2009 when Fox stormed up to the car, Swansea Crown Court heard.
He smashed his bare fist through the window before driving her and Ms Evans, 19, to forestry where he launched a "savage" attack on the pair.
Swansea Crown Court heard that Ms Lewis was in a coma for a month, and was so badly disfigured that paramedics could not tell if she was a man or woman.
Schizophrenic
The court was told Fox, a bare knuckle boxer from the village of Bow Street, had been diagnosed as a paranoid schizophrenic.
Fox admitted kidnap, aggravated vehicle taking, actual bodily harm, grievous bodily harm and dangerous driving.
In a joint statement, the families of both woman said they were "satisfied" with the guilty verdict.
"It was a great shame that this case had taken so long to get to court and the fact we had to relive the whole nightmare again.
"We can now move on with our lives in the knowledge that he will be sentenced accordingly and we hope that he does not get the opportunity to do this again and ruin someone else's life.
"The whole incident has affected us all emotionally as families and will be with us all forever."
Detective Constable Louise Davies of Dyfed-Powys Police said: "This was a protracted investigation into a vicious attack involving a number of scenes but detectives were determined to see justice done.
"Through their meticulous work and dedication a dangerous and violent individual has appeared in court."
The case was adjourned for sentencing and Fox was remanded in custody.