Vince Cable urges Cardiff and London to work together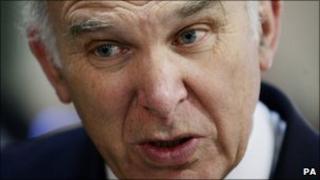 Business Secretary Vince Cable has called for co-operation between governments in London and Cardiff to revive the economy of Wales.
He told the Welsh Liberal Democrat conference the UK government had "headed off financial disaster" by laying a plan to cut the deficit.
Mr Cable said Welsh economic issues ran "deep".
But he said the UK and Wales coalitions needed to work together "to rebuild the Welsh economy".
Mr Cable, speaking a day after the Yes vote in the referendum on direct law-making powers for the assembly, said it was a "new era" in a Wales that was "self-confident and positive".
The cabinet minister told delegates that the referendum result meant that the assembly now "has the tools to do the job that it has requested".
"Wales' economic issues run deep and the impact of the loss of much of its manufacturing bae in th 1980s is still felt," he said at the conference in Cardiff.
'Turning point'
"With the right support, we can establish the growth in the private sector that Wales needs," he told the party's Welsh spring conference.
"Of course, not all of the economic levers rest in either Cardiff or London.
"It will require governments of different colours working together to rebuild the Welsh economy."
After the last assembly election in 2007, there were failed attempts to build a coalition between the Lib Dems, Plaid and Conservatives.
The next assembly election is in May, and Lib Dems will again harbour hopes of being a partner in a coalition in Cardiff Bay.
Mr Cable echoed the words earlier in the day of the Welsh party leader, Kirsty Williams, that both UK and Welsh governments had to "focus relentlessly on the need to create new jobs and prosperity" through home-grown enterprise.
"We are now at a turning point, where manufacturing is reviving, especially in hi-tech innovative firms and with Welsh strength in agriculture and tourism, there is every prospect, with the right policies and leadership, of a Welsh economic renaissance."