Ryan Thomas-Weager 'overdosed on father's methadone'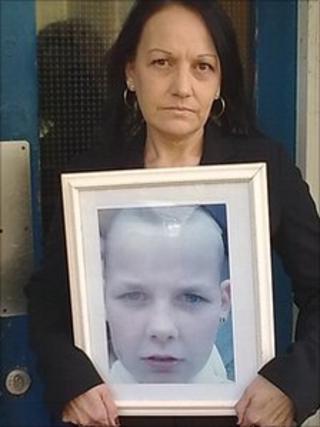 A 15-year-old boy died when he overdosed on his father's methadone, an inquest has heard.
Ryan Thomas-Weager was found dead in his bedroom in Penparcau, Aberystwyth, on 10 September, 2009.
His father Mark Thomas, who was estranged from his mother, was sharing a room with his son, and left the drug on a heater, the inquest heard.
Recording an open verdict, coroner Peter Brunton said it was unclear if Ryan drank or injected the drug.
The inquest in Aberystwyth heard that Dyfed-Powys Police arrested Ryan's brother Luke and his father Mr Thomas on suspicion of supplying Ryan with a controlled drug, but no further action was taken against either man.
The hearing was also told it was forensically impossible to say whether the methadone was ingested or injected.
No fingerprints were found on the bottle of methadone and a mixed DNA profile from Ryan and his father was found on the bottle top, Det Con Michael Beechey told the inquest.
Recording his verdict, Ceredigion coroner Mr Brunton said: "There is no doubt whatsoever there was methadone in that room.
"It was in the room because it had been prescribed to his [Ryan's] father. Beyond that I don't know if we will ever find an answer. It's impossible to tell if Ryan took the methadone by mouth or injected it.
"I don't know if he took it or it was administered. There's no suggestion the drug was administered to him by his father. On the balance of probabilities, Ryan may have found the bottle and knew what it was and experimented, but that is purely conjecture on my part."
Ryan, who had attention deficit hyperactivity disorder and was being tested for autism, had been staying with his father in Hereford, and he returned to his mother Elizabeth Weager's home in Aberystwyth on 8 September, 2009, with his father.
Ms Weager told the inquest that on the night before her son was found dead, she went into his room and saw Mr Thomas lying on a sofa. Ryan was wearing headphones and looking through his CDs.
"I noticed a brown glass bottle on the heater about 3ft off the ground. I could not see the label," she said.
Methadone poisoning
She said Mr Thomas said he had some acid stomach problems and she thought the medication in the bottle was to treat that.
Ms Weager said the next morning she could not wake Ryan, and he was later pronounced dead.
Pathologist Christopher Simpson gave the cause of death as methadone poisoning.
Mr Thomas, who spoke via a video link, said he kept his methadone in a rucksack, which he used as a pillow on a sofa in Ryan's room. But Mr Brunton said he believed Ms Weager's evidence that it was left on a heater.
Mr Thomas told the inquest that to the best of his knowledge, Ryan had never taken methadone before.
When asked by Mr Brunton where Ryan had got the methadone from, Mr Thomas replied that he must have taken the drug from his bag.