Alabama church bombing victims honoured by Welsh window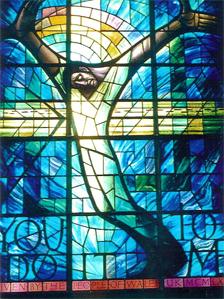 Forty-eight years ago an act of terrorism on the other side of the Atlantic created such an outpouring of sentiment, that its solidarity reached Wales.
On 16 September 1963, a splinter group of the Ku Klux Klan planted a bomb at the 16th Street Baptist Church in Birmingham, Alabama, which killed four black girls attending Sunday school.
While few outside of Birmingham's African-American community displayed much sympathy, youngsters in Wales were so touched by the tragedy that they quickly raised the funds to replace the church's stained glass windows.
Their message of support from Wales is remembered in a BBC Radio Four documentary at 1130 GMT on Thursday.
Kathleen Bunton, a member of the church and lifetime resident of Birmingham, said: "I was surprised that people cared about blacks altogether.
"Because if you had encountered the situations that were going on here...it was as if nobody cared.
"Of course you want to feel that I know God cares and he loves us all, but to think that another race would respond to this was very moving for me."
News of the bombing reached artist John Petts in Llansteffan, Carmarthenshire.
He quickly offered his services to create and install a replacement window from Wales at the 16th Street Church.
Then editor of the Western Mail, David Cole, launched a front-page campaign to raise funds for the venture. There was to be a maximum donation of half a crown (30 old pennies, around 12.5p in today's money), so that the window was truly from all the people of Wales.
Speaking to the BBC in 1987, John Petts recalled: "They had never heard of Wales, they had no idea where it was, but they were very quickly told something of the little country Wales was, and how it put great value on independence and freedom, to bandy with the great big words.
"An idea doesn't exist unless you do something about it," he said.
"Thought has no real living meaning unless it's followed by action of some kind."
In an incredibly short space of time, the Western Mail's campaign had gathered force, with black and white children alike queuing in Cardiff's docklands to hand over whatever they could afford.
Within just two years, Petts had delivered his gift from Wales, a defiant and heart-warming image of a black Jesus beneath a rainbow of racial unity; his right arm pushing away hatred and injustice, the left offering forgiveness.
The current 16th Street Pastor, Reverend Arthur Price, says it is an image which draws comment to this day.
"The boldness - in this country - of having a black Christ speaks volumes. For the African American community that's not a stretch at all, but for many people in the white community during that time, to say that Jesus Christ was black and of African descent would be blasphemous,"
"But I think the major message we try to take out of the window is not so much identifying Christ's colour but knowing that Christ identifies with us.
"To the white community this is that the Jesus you love identifies himself with the African-American community, so you are really crucifying him again when you persecute someone who does not look like you."
The documentary, presented by Gary Younge, discovers that not only did the gift of strangers give an embattled community the faith to walk tall once again, but it also ensured that a small part of the Deep South remains - to this day - a friend of Wales.