Ten arrests over Newport railway cable and metal thefts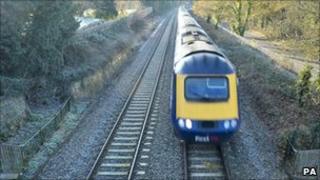 Ten people have been arrested by police on suspicion of stealing railway cable and metal.
Nine men, aged 19 to 37, and a 17-year-old were arrested at addresses across Newport in early morning raids on Thursday, say British Transport Police.
Officers have arrested five other people in the past couple of weeks after visiting scrap metal sites in the city.
Transport police have identified Newport as a "hotspot" for cable theft.
All 15 arrested since 2 March have been bailed until September pending further inquiries, said police.
The 10 detained on Thursday were all arrested on suspicion of conspiracy to steal cable and metal from railway lines in the Newport area between September last year and March this year.
Six vehicles, four quad bikes and firearms were also seized from the addresses.
On Monday, a 39-year-old man and a 44-year-old woman from Langstone, Newport, were arrested on suspicion of money laundering and false accounting after officers visited a scrap metal dealership.
Two men and a woman were also arrested on 2 March.
Det Insp Mark Cleland, of British Transport Police, said: "After terrorism, cable theft is one of the biggest issues currently facing the rail industry.
"Each year, the actions of thieves cost Network Rail hundreds of thousands of pounds in repairs and result in countless delays and cancellations and huge associated compensation costs.
"Cable theft also has a negative effect on the economy of the geographical area concerned, and the wider UK economy.
"This has been a particular problem in Newport where there has been a marked increase in the number of thefts committed on the railway over the past six months in particular."
Mark Langman, Network Rail route director, added: "It's your railway - help us keep services running reliably by reporting anyone you see acting suspiciously or let the police know of any information you have about people committing these crimes".
Anyone with information about cable theft, or suspicious activity on the rail network, is asked to call British Transport Police on 0800 405040 or 999 in an emergency.
Meanwhile, North Wales Police are appealing for information following lead and scrap metal thefts in the Cefn Mawr, Rhosymedre and Acrefair areas of Wrexham.
Thieves have been targeting churches and businesses including, in the latest incident, the George Edwards Hall, Cefn Mawr, where offenders removed a "substantial amount" of lead from the roof.