Welsh campaigners welcome longer coastguard cuts debate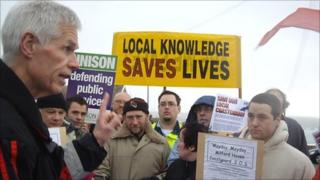 An extension of public consultation to modernise the coastguard service has been welcomed by campaigners in Wales.
The Maritime and Coastguard Agency (MCA) wants to shut 10 of the UK's 18 stations, including Holyhead and Milford Haven, leaving only Swansea.
Shipping Minister Mike Penning agreed longer consultation amid concerns.
Dennis O'Connor of Save Milford Haven Coastguard Campaign, said it was a "clear indication" that issues have to be addressed, particularly safety.
"Lives will be put at risk because it will lead to response times being increased," he told BBC Radio Wales' Eye on Wales.
Mr Penning told the Commons on Thursday that as it was a "complex and sensitive issue" he wanted to give people affected by the proposals the "greatest possible opportunity to contribute to the debate".
The MCA consultation has now been extended until 5 May and people can add their views online via the agency website.
Two years in the planning, the modernisation proposals emerged as the MCA was told it had to find savings of 22% as part of the government's spending review.
It said technology would help deliver the savings, creating a networked system of rescue co-ordination centres.
Distress calls
MCA chief executive Sir Alan Massey said: "Nothing we're doing is going to jeopardise maritime safety.
"None of our plans would foresee people's lives or livelihoods being put any more at risk than they are at the moment."
Figures from the MCA show that last year the Milford Haven station dealt with 715 serious incidents, classed as "alert, distress and uncertain".
In all, 109 of those involved medical evacuations.
Critics of the MCA's plans are unclear how the agency can guarantee safety when, in the future, such calls will be transferred to Swansea in the day - or a 24-hour station on the Solent.
John Reynolds runs Pembrokeshire Islands Boat Trips, which carries hundreds of passengers a week to the bird sanctuary on Skomer Island during the summer.
Three or four times a year his boat, the Dale Princess, is called on to assist Milford Haven coastguard station in searches, often for divers who have been swept away from their dive boat by currents.
He is concerned the proposed closure of the Milford Haven station will mean that the local knowledge of the 24 coastguards who work there will be lost.
"It's all about setting search patterns and you've got to be local to know where these tides are," said Mr Reynolds.
"It's no good looking in a tidal atlas, it's not going to give you the detail that you'd have from local knowledge."