Sir Terry Matthews opens Newport university campus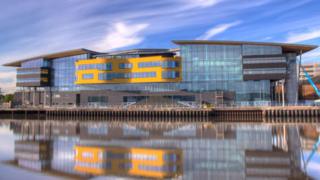 A £40m campus at the University of Wales, Newport has been opened by business tycoon Sir Terry Matthews.
The building on the banks of the River Usk houses 2,700 students from Newport Business School and much of the school of art's media and design department.
It was completed at the end of last year, and been occupied since January.
Meanwhile, union members will vote on strike action, but the university says no pay changes are planned and it is trying to avert compulsory redundancy.
The university said the invitation to Sir Terry to formally open the building was a signal of its focus on providing economic growth and regeneration to Newport and Gwent.
In a full day of events, including a community open afternoon, Sir Terry, who owns the Celtic Manor Resort in Newport and is one of Wales' most successful businessmen, was speaking about the role higher education can play in driving the economy.
He was also receiving an honorary fellowship of the university.
Speaking ahead of the launch, university vice-chancellor Dr Peter Noyes said: "Today, as we launch our new city campus, the university will stake its claim on a place at the heart of the economy of the region.
"In this building, the university has created a new way of doing things of which the effect will be felt for years to come."
The campus was funded by the university, Newport council and the Welsh Assembly Government and is seen as being an important feature of the city centre's regeneration.
Part of it was also funded by the selling off of the old Allt-yr-yn campus. The cost has previously been reported as £35m, but it is now put at £40m.
Meanwhile, the University and College Union said its members would meet at the city centre campus on Wednesday afternoon, claiming there are proposals for compulsory redundancies and cuts in pay and courses at the university.
Another meeting is planned for Thursday at the university's Caerleon campus.
A university spokesperson said: "There are no plans for changes to pay and we are working incredibly hard with our staff to avoid compulsory redundancies, of which none have been announced.
"We have to deal with a major shortfall in our core funding in the coming year and we are doing this in a way which will make the university's future secure for the region and everyone who relies on the university.