South Wales Police force 'to lose up to 200 jobs'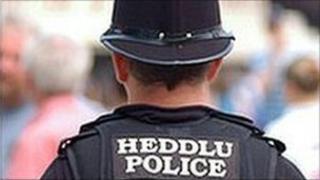 South Wales Police are in talks with staff and unions as the force is to cut up to 200 jobs over the next 18 months.
Chief Constable Peter Vaughan said the "stark reality" is £19m in savings have to be made before the end of next March.
A 90-day consultation has started although Mr Vaughan said some losses will be met by not filling vacancies.
In all, the force must plug a £47m budget shortfall over the next four years.
As part of the saving, the jobs are to go in a reorganisation of the force's non-emergency call handling system.
It said the move, which will see call handling centralised at the Bridgend headquarters, is necessary to make the £19m of savings by 2012.
The force said the processing of 999 calls will not be affected and will be answered as usual.
Russell Roberts, chair of South Wales Police Authority, said: "The funding situation we face is unprecedented.
"With 80% of our budget spent on people, we have little option left but to look at redundancy."
Voluntary early retirement
The force said it must make 85% of its grant savings between 2011 and 2014 and has decided to review the set-up of its call and incident management unit.
The new structure will act as a "one stop shop" and will see calls that come through the 101 non-emergency number dealt with at a single point rather than passed to centres in Pontypridd, Swansea and Cardiff Gate.
The aim is to reduce administration and prevent callers having to be transferred between centres.
South Wales Chief Constable Peter Vaughan said: "Where possible, these losses will be met by not filling vacancies and by a voluntary early retirement scheme.
"It is therefore not possible to give exact numbers of how many posts will be lost at this time as it will depend on how many people choose to leave the organisation voluntarily."
The force has invoked the so-called A19 process for officers who have reached 30 years' service.
Since 7 March officers of all ranks have been sent a notice giving them the option to retire with a period of notice or to make an application to continue their service for a further 12 months.