Welsh NHS payments for errors rise 50% in three years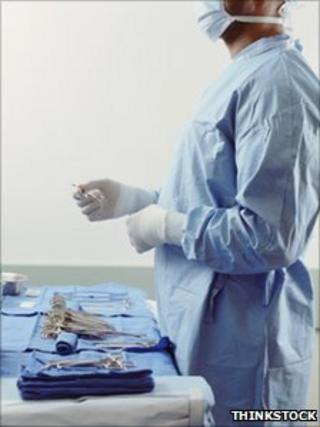 The amount paid out by health boards in Wales for botched operations, treatment delays and medical mistakes has risen 50% in three years.
Figures obtained by BBC Wales show the total paid out by health boards rose to £31m in 2010-2011 from £20m in 2008-9, a total of £76.2m.
The Patients Association said all most patients want is for the error not to happen again.
The Welsh Government said the vast majority receive "high-quality" care.
It follows an NHS Wales campaign to reduce "avoidable harm" while caring for patients.
The drive, called 1,000 Lives, was estimated to have prevented 1,199 deaths.
A Freedom of Information request by BBC Wales to the seven local health boards reveals the number of claims also increased, from 263 in 2008-09 to 309 in 2010-11.
The only health board not to respond was Cwm Taf.
Most claims were for clinical procedures that went wrong, errors or delays in diagnosis, mistakes made in labour or delivery and substandard care.
In the past three years the Welsh Government has paid £115m into the Welsh Risk Pool, a fund which manages claims on behalf of health boards.
Vanessa Bourne of the Patients Association said: "It is essential that health boards are taking every action to make sure safety is their top priority.
"The experience from our helpline is that what patients most want is for the error never to happen again to someone else.
"Patients understand that one-off human error may occur. What is unforgiveable is where systemic failures are allowed to go unchecked, or where staff knew there was a problem but kept quiet and let the situation deteriorate into a claim for negligence."
The doctors' insurance body the Medical Defence Union represents GPs who are subject to claims.
Dr Sharmala Moodley, deputy head of their claims department, said that the rise was not surprising as claims against doctors shot up 20% in 2009 and against dentists 10%.
She added that the move to more "no win no fee" legal cases had increased costs and now amounted to 30% of cases against doctors and 50% of cases against dentists and the same was probably true for hospital staff.
"As far as our data shows there has been no decrease in doctors' performance.
"The rise is probably due to the fact patients have more access to well-advertised funding."
But the Association of Personal Injury Lawyers (Apil) says the increase in claims has improved healthcare standards.
'Ambulance chasers'
Brian Dawson, Apil's Wales co-ordinator, told BBC Wales it was unfortunate that "no win, no fee" lawyers often got the reputation of being "ambulance chasers".
"There's a small minority giving us a bad name. There's a balance to be struck between informing people of their right to claim and encouraging people where there is a moral issue.
"I don't think this rise is down to more claims being encouraged. It's pure chance that there happens to have been more claims."
On 1 April the Welsh Government introduced the Putting Things Right scheme, part of which allows for lower value claims (under £25,000) to be settled without the need for legal action.
A spokesman said: "Every day the NHS cares for thousands of patients safely and the vast majority of people receive high-quality safe care from the NHS.
"Despite everyone's best efforts there will unfortunately be occasions when things do not go as well as we would wish. In such cases, it is important that situations are investigated properly, that people are treated fairly and lessons are learned."
He said the Welsh Risk Pool budget was agreed at the beginning of each financial year based on forecasts of how many claims are likely to settle in-year and their potential value.
Dr Alan Willson, director of 1,000 Lives Plus, said the campaign had already achieved a great deal but hoped to achieve more.
He said: "The work undertaken by health organisations throughout Wales to improve the quality of care has been impressive - but we also know there's so much more to do."