Consumer Focus Wales' food hygiene rating concern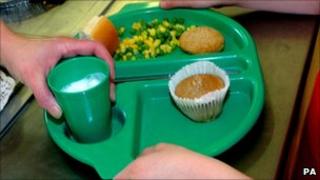 More than 60 schools, nursing homes and hospitals in Wales have sub-standard food hygiene, says a watchdog.
Consumer Focus Wales is calling for full inspection reports to be made available to the public in order to protect vulnerable groups.
The watchdog has published a map showing public institutions with ratings below the satisfactory score.
The Welsh Local Government Association said local authorities had "prioritised food safety work".
Consumer Focus Wales is monitoring the implementation of recommendations developed to prevent a repeat of the 2005 E. coli outbreak in south Wales.
Five-year-old Mason Jones died in the outbreak and 157 people became ill. A butcher was jailed for a year in 2007.
Maria Battle, senior director of Consumer Focus Wales, called for the assembly government to use its new direct powers to ensure food hygiene ratings were displayed at business premises.
"It is not acceptable that there are publicly-funded institutions, such as hospitals and schools, serving food to vulnerable people despite failing to meet statutory requirements for food hygiene," she said.
"The greatest tool for improving food hygiene is openness to public scrutiny by making businesses display their food hygiene ratings on the premises.
"What greater incentive for food producers than knowing their rating will be public and their failings will no longer be hidden?"
She added that the fact the "vast majority" of premises serving food to vulnerable groups were getting high ratings made it hard to understand why a small number rated so poorly.
The watchdog is calling for the Food Standards Agency to encourage local authorities to make full inspection reports available for the public to download.
The Welsh Local Government Agency said that since the 2005 outbreak, local authorities had "prioritised food safety work" and "provided significant new resources to tackle this important public heath issue".
A spokesperson added: "The idea behind the food hygiene rating system is to promote consumer choice and drive up standards in food businesses. A business with a poor rating is generally one that is found on inspection to need to improve standards.
"However, the reason for a low score could be that the business does not currently have a written procedure for food hygiene.
"Whilst the business premises could be spotless, without this written supporting document they could not be scored above a one-star rating.
"It is important to note that those premises with low ratings are most likely to be in the process of improving."
Food hygiene ratings can vary from zero (urgent improvement necessary) to five (very good).
Since the scheme started in October 2010, 24 schools and colleges in Wales were rated two or below, while 30 caring premises and three hospitals also had facilities with similarly poor ratings. Consumer Focus Wales has identified these premises on a map.
They include the main kitchen at Swansea's Morriston Hospital which was told to make major improvements after a rating of one.
Managers there said they had strongly challenged the score, saying problems were down to documentation.
"It is important to emphasise the current low score does not reflect the hygiene or cleanliness standards in the kitchen with which no problems have been identified," said a spokeswoman for Abertawe Bro Morgannwg University Health Board.
"We can assure the public no issues have been raised regarding the food prepared for patients, staff or visitors."
'Put things right'
Sharon Mills, the mother of Mason Jones, the schoolboy from Deri near Bargoed who died in the 2005 E. Coli outbreak after eating infected meat, said it was "diabolical" that hygiene was not up to scratch at premises serving vulnerable people.
"They are the vulnerable age groups, children and older people, and it's not good enough that we're exposing them to risks in this way," she said.
"They shouldn't be scoring lower than three. I thought after the outbreak [in 2005] and the public inquiry these places would pull their socks up."
Following the inquiry, Professor Hugh Pennington made 24 recommendations aimed at preventing further outbreaks.
The Food Standards Agency said it was pleased the Consumer Focus Wales assessment showed implementation of many of Prof Pennington's recommendations was well advanced.
The assembly government spokesperson said it supported the launch of a food hygiene rating scheme last year, and commissioned a review of food law enforcement.
That report will be submitted in May