Jobs under threat at QinetiQ's Aberporth testing range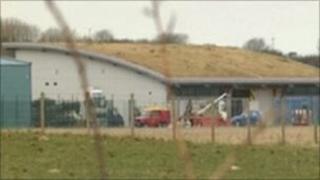 Defence contractor QinetiQ is in discussions with staff about cutting 13 fire and rescue jobs at the Aberporth testing range in Ceredigion.
The company said it had agreed with the Ministry of Defence (MoD) that an extensive rescue service was no longer required.
Thirteen jobs would be lost through proposed redundancies, it said.
Six jobs are being created at MoD Pendine and affected staff would be able to apply, said a spokesperson.
The spokesperson said: "At MoD Aberporth we have agreed with the MoD, our customer, that we do not need to maintain a full fire and rescue service at this site as the vast majority of trials activities do not require dedicated fire cover.
"Where this service is required, this can be provisioned either by the trials sponsor or by other QinetiQ fire service personnel.
"As a result the company entered into a period of consultation with affected employees," said the spokesperson.
The decision will not change activities on the range, which is used to test unmanned aerial vehicles.