Welsh assembly vote to ban for unstaffed tanning salons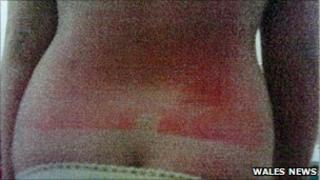 Unstaffed tanning salons will be banned by regulations passed in the Welsh assembly.
Stricter controls on the use of sunbeds were nodded through the Senedd by AMs on Tuesday
Under-18s will be banned from using sunbeds from 8 April.
The ban is meant to reduce cases of skin cancer by protecting youngsters from the dangers of overexposure to ultra-violet radiation.
It follows a number of cases in Wales where children have been badly burned.
Tanning salons will be required to supervise all adults using sun beds from 31 October as part of further regulations from Health Minister Edwina Hart.
The Welsh Assembly Government said the controls it was introducing went further than those in the rest of the UK.
The action by the assembly government was made possible by a private members bill in the UK Parliament introduced by the former Cardiff North MP Julie Morgan.
It means tanning salons will have to provide protective eyewear to adults using sun beds. They will also have to display specifically approved health information about the effects of sun beds.
A study by Cancer Research UK in 2009 commissioned by the minister found that 8.2% of children in Wales aged 11-17 had used a sun bed at least once. Another 16% said they may use one in future.
More than 40% of children responding to the survey said they had used the tanning equipment unsupervised.
Mrs Hart said: "The impact of cancer on individuals and their families is potentially devastating and as a government we remain committed to doing all that we can to tackle cancer.
'Prevention and education'
"While our main focus is to protect children and young people, the regulations also provide the requirement for sunbed operators to provide more advice and protection for adults."
Chief Medical Officer for Wales Dr Tony Jewell said: "Rates of skin cancer have increased in recent years and this is partly related to increasing exposure to ultra-violet radiation.
"We are concerned about the increased use of sunbeds, particularly by young people, and these regulations will help to reduce the risks of skin damage and cancer.
"This is part of our investment in prevention and education to reduce the incidence of cancer in Wales."