Welsh Football Trust pushes for more women players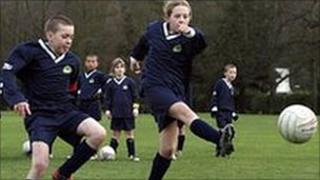 More women and girls are to be urged to play football in Wales in a new four-year strategy.
Women's football is one of the fastest growing sports in Wales, with 10 leagues for girls across the country, and five for women.
There will be a new push by the Welsh Football Trust to increase participation by 40% by 2014.
Neil Ward, head of the trust, said there would also be a drive to involve more volunteers and coaches.
He told BBC Wales: "We've set some ambitious goals, particularly around the growth of the game.
"We are looking to build on the success of the past four years where we've had a 29% increase in participation and we want to up that to 40% by 2014.
"We want to support talented players, they've got to have the same support structures at the elite and club ends, so we will be having regional performance centres to bridge that gap."
About 5,000 women and girls are currently involved in playing the sport in Wales and in school it is the second most popular sport chosen by them after dance, but Mr Ward wants to help more players gain experience in a club environment.
Lack of pitches
He said: "This means working with community clubs to make sure they are ready to receive more girls and training more volunteers and coaches.
"There's a tradition of parents volunteering in the boys' game, but we want to target mums and get them volunteering to help as well as dads helping with the girls' game too."
There will also be efforts to make more facilities available to female teams who often suffer from a lack of pitches in poor weather.
The Welsh Football Trust receives financial support of £850,000 per year from Sport Wales and the Welsh Assembly Government. Last year it agreed a 100% funding increase from the Football Association of Wales.
Mr Ward said next year's Olympics, which opens with the women's football tournament at the Millennium Stadium in Cardiff, would cast a welcome spotlight on the sport.
He said: "Women's football will be in the shop window in Wales and will raise interest and show there are opportunities for girls as well as boys in the sport.
"Structures are now in place so people can aspire to play at the highest level."