Borth coastal defence rocks unloaded after delay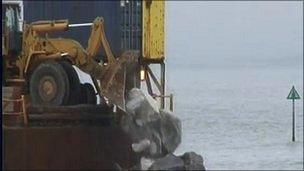 Work has started to unload more than 40,000 tonnes of rock onto a beach near Aberystwyth after choppy seas forced delays.
The work is part of a £12m coastal protection scheme in the village of Borth to reduce the risk of flooding and erosion over the next 50 years.
A ship carrying the rocks arrived from Norway last week but sea conditions delayed the start of the work.
The rocks will be used to build an artificial reef to attract surfers.
A barge is ferrying the cargo to the shore from the ship anchored off the Ceredigion coast, and then a digger on the barge is unloading the rocks. The work is expected to take a few weeks.
Another ship carrying more rocks from Norway is expected in the area on Saturday.
Ceredigion council said: "The rocks will be used to build an offshore reef part of the Borth to Ynyslas coast protection scheme, which will defend the village for the next 50 years against a one in 100 year event.
"The rocks are to be transported from two large vessels, situated off shore, to Borth beach via a smaller barge and then moved to a designated storage area by beach based plant."
The process will continue at high tide for a number of weeks, dependent on the weather.
Transporting the rocks by sea would reduce deliveries by lorries, equating to a reduction of some 4,000 vehicle movements, the council added.
Related Internet Links
The BBC is not responsible for the content of external sites.