Brecon sixth form walks out to back teachers' strike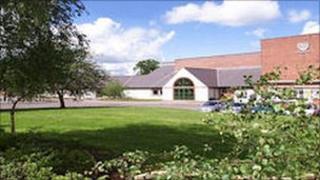 Sixth form students at a school in Powys staged a walk-out in support of a teachers' strike over concerns about compulsory redundancies.
The pupils said they left a morning assembly on Monday at Brecon High School in "solidarity" with teachers, but they went on to attend lessons.
The fourth of six one-day strikes by members of the NASUWT teaching union starts on Tuesday.
The head teacher has said the school has more staff than it needs.
The school said six jobs would go, with two posts lost through compulsory redundancy.
"We have agreed to reduce staffing numbers by six. By working together and using a variety of strategies we have managed to reduce the compulsory redundancies to two and we will continue to work hard to seek alternatives to making any compulsory redundancies."
Many of the school's 800 pupils are expected to remain at home as 28 of its 45 teachers take action between Tuesday and Thursday.
Strike action
Powys council confirmed the sixth formers walked out of assembly, but went on to attend their lessons.
In a statement, Brecon sixth form said: "This morning, Monday 4th, the Brecon High School sixth formers showed a sign of solidarity with affected teachers by walking out of the whole school assembly.
"This unity against the powers that be is hopefully going to contribute to resolving the problem that faces the members of staff at our school.
"This problem has been a threat for the best part of two months. It has disrupted our education and as a sixth form (and) we feel something must be done."
Strikes have already been held on 17, 30 and 31 March, while further action is planned on Tuesday, Wednesday and Thursday.
The NASUWT has accused the school's governors of financial mismanagement and said they had turned a £100,000 surplus into a projected £650,000 deficit in three years.
The school denied it had failed to take action to address a budget deficit, which it claimed was caused by a reduction in funding.
Last week, school governors said the continued strike action was unnecessary, unhelpful and irresponsible at a crucial time for pupils.
Governors, the head teacher and Powys council have pledged to work together to make sure the action planned by the NASUWT does not disrupt pupils during exams.