Brains brewery faces Aberystwyth hotel repairs bill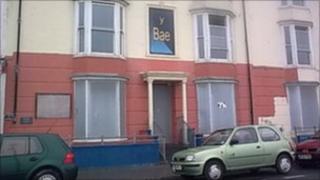 A brewery faces a bill for repairs to an empty hotel on Aberystwyth promenade after a council branded it an "eyesore".
The Ceredigion Council-owned Bay Hotel is leased to brewer Brain's but it has been boarded up since June 2009.
The council said it would carry out the repairs and recover the costs from Brain's.
SA Brain said it had been trying to find a solution to for several years and would continue to look at options.
A Ceredigion council report said Brain's had "expressed reluctance" to carry out repairs to the prime sea front property, once popular with young people in the town.
It said the building had been deteriorating and urgent action was needed to protect the "council's freehold interest".
The report said: "As the tenants have expressed reluctance to carry out the necessary repairs, it is necessary to serve a formal notice of the council's intention to carry out the works and to seek to recover all costs from them under the terms of the lease."
'Sound condition'
The report added: "As some members will be aware the Bay Hotel in Aberystwyth has been closed since June 2009 and has become a visual eyesore in the appearance of the promenade, one of Aberystwyth tourism jewels.
"Over the last two years Brain's breweries have been considering their investment options in conjunction with a number of their other properties in Aberystwyth."
The council said it would hold talks with Brain's about the surrender of the lease.
A spokesman for Brains said: "S.A Brain & Co Ltd have been proactively driving the dialogue with Ceredigion County Council for several years in an attempt to find a solution that works for all parties involved.
"We will continue to discuss the options to find a solution."