Afghanistan: 'Bombardier's slip triggered bomb'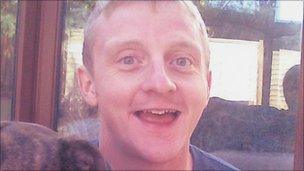 A soldier who was the 100th member of the UK forces killed in the Sangin area of Afghanistan slipped setting off a bomb, an inquest has heard.
Bombardier Sam Robinson, of 5th Regiment Royal Artillery, died in an explosion while on foot patrol.
The 31-year-old, from Carmarthen, who died on 8 July, 2010, was on his fourth operational tour of Afghanistan.
The Witshire coroner record a verdict of unlawful killing while on active service.
The physical training instructor, known as "Robbo", was standing on top of a pile of rubble when it gave way, the inquest in Wiltshire was told.
He slid down the side of the rubble triggering a hidden improvised explosive device which killed him and injured two others.
Cpl Andrew McCabe, from 1st Battalion The Mercian Regiment, told the inquest: "I was two metres away from Sam leaning against a wall.
"I saw him slip and he slipped down the gravel. He lost his footing and the blast occurred."
David Ridley, Coroner for Wiltshire and Swindon, told the hearing Bdr Robinson was operating a metal detector at the time.
"There was then a large explosion in the vicinity of Sam. As the dust settled it was clear the unit had sustained two casualties, although in the aftermath and confusion, the whereabouts of Sam became of concern moments later.
"It was clear to those that found him that he had sustained injuries incompatible with life and had not survived."
A post mortem examination found Bdr Robinson died from "blast injuries caused by an explosion" and would have been rendered unconscious immediately.
Mr Ridley added a subsequent investigation concluded that the device that took Bdr Robinson's life was a type used by insurgents in the Sangin area.
At the time of his death, 11 years after he joined the army, his family said: "Sam was doing the job that he loved and was proud to be doing it.
"We are all very proud of him and we will miss him for ever."
Lt Col Richard Hayhurst, commanding officer 5th Regiment Royal Artillery, described Bdr Robinson as a "courageous" man who held the respect of all that knew him.
"His strength of character, professionalism, and outright robustness made him a force to be reckoned with," he said.
"He was the perfect role model for the rest of the regiment and in particular the young members of 4/73 Battery.
"He was special and will be sorely missed. His tragic loss has come as a shock to us all and my greatest sympathy goes out to his family and to his friends."
Related Internet Links
The BBC is not responsible for the content of external sites.