Melanoma rise warning follows Cerys Harding's death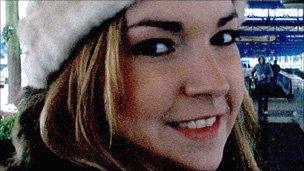 Weeks after the death of a 21-year-old student, Cancer Research UK has warned of a rise in melanomas among young people.
Cerys Harding, 21, who died four months after diagnosis, was said to be careful to always avoid the sun.
The Swansea University student, from Canton, Cardiff, was diagnosed last November.
A Cancer Research UK report warns of a tripling in melanoma rates among 15 to 34-year-olds since the 1970s.
Cerys was described as an "angel" and "a parent's dream".
Her mother, Beverly, 50, said: "Cerys was so careful. She was the only person on the beach that had a towel over her as well as under her.
"She was a girl who never ever sat in the sun - she hated the sun. She had dark hair and dark eyes and it didn't make sense, none of it did.
"Never in a million years did we think anything like this would ever happen to Cerys as she still had so much to give."
Her father, David, 52, said: "She was worried about leaving us, that' s the first thing she said. She was always thinking of other people.
"All she said was that it wasn't meant to be."
Her family said she never used sunbeds.
Cancer Research UK says sunbeds are partly to blame for the increase, and young people are particularly at risk.
A ban on the sunbeds use by under 18s in Wales come into force on Friday.
The ban is meant to reduce cases of skin cancer by protecting youngsters from the dangers of overexposure to ultra-violet radiation.
It follows a number of cases in Wales where children have been badly burned.
The cancer charity said the figures for Wales from 2006-20008 show an average 555 people of all ages are diagnosed with malignant melanoma in Wales every year.
It said young women were more than twice as likely to be diagnosed as young men.
In the late 1970s, there were 2.0 cases of malignant melanoma in this age group per 100,000 people compared to 6.1 per 100,000 now.
Meanwhile, Jane Gustard, 36, from Blackwood, was diagnosed after her one-year-old son, Ianto, kept pointing to a mole on her neck.
The lecturer in history and Welsh at College Ystrad Mynach said: "It began with a small mole on my neck, almost like a freckle, but when I was pregnant it seemed to get bigger.
"Ten months after my son was born the freckle got bigger and it was only when my son turned one that he began to notice it more and pointing to it.
"My mum noticed it had got bigger and along with my husband nagged me into going to the GP."
She was referred to a skin specialist three weeks later.
She added: "The consultant took one look at it and said he was going to remove the mole that day. I was shocked.
"If my son hadn't kept pointing to the freckle I don't think I would have done anything about it!"
She was cleared of treatment in October 2010 and was discharged in January this year.
Caroline Cerny, Cancer Research UK's SunSmart campaign manager, said: "It's more important than ever to be aware of the dangers of getting sunburnt.
"Nor are sunbeds a safe alternative to tanning. In fact using a sunbed for the first time before you're 35 can increase your risk of melanoma by 75%."
Related Internet Links
The BBC is not responsible for the content of external sites.