Emergency care needs a shake-up, say surgeons at RCS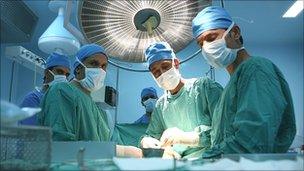 A report from the Royal College of Surgeons says lives are being put at risk because some hospitals focus too much on waiting lists for routine surgery rather than on emergency operations.
It claims emergency patients account for up to half the NHS surgical workload in Wales and England, but that deaths rates and complications vary widely between hospitals
Local health boards are looking at centralised specialist centres. They say the RCS report endorses the plans.
The RCS has published a list of new standards to help hospitals in Wales and England "to get things right".
It says priority is often given to routine surgery in order to meet "arbitrary targets" and which delays vital surgery, resulting in "poor outcomes for patients".
Colin Ferguson, RCS director of professional affairs for Wales, said it is common in every branch of surgery to see patients with serious conditions given a lower priority than they deserve.
He claimed patients are often placed in inappropriate wards and frequently wait far too long for a space on an emergency operating list.
"These patients should be treated in centres that can offer the highest quality of care," he said.
"Sadly, this is currently often not the case."
The RCS say while detailed performance statistics are gathered for routine, pre-planned operations, there is currently little gathered on timeliness of emergency surgery.
Among its recommendations it calls for better monitoring of emergency patients, and dedicated wards and access to critical care.
Professor Ceri Phillips, health economist at Swansea University, said the report was warning that not properly managing emergency patients was actually increasing the cost to the NHS.
He said targets for emergency and A&E admissions puts pressure on other parts of the system.
"Because perhaps patients are not managed as patients but rather to accommodate targets, that's why we are seeing these anomalies in the system," he told BBC Radio Wales.
"What we probably need to think about, and it has been suggested, is that we see a clear demarcation between emergency surgical procedures and elective procedures.
"For example, it has been suggested that over the Christmas period, we do not plan any routine surgery because of the pressure on beds in hospital.
"Obviously this goes against some of the things we've been talking about in terms of waiting times, but it does mean patients with emergency needs can be dealt with in an appropriate and effective and efficient manner rather than an ad hoc basis."
Kate Watkins, acting director of the Welsh NHS Confederation, which represents local health boards, said it would be considering the recommendations to see what improvements they could make.
She said the report backs the argument that it was crucial to have fully staffed and equipped emergency facilities, which currently can't be safely provided in all hospitals across Wales because the expertise would be spread too thinly.
"That is why some health boards in Wales are looking to provide all emergency surgery in one central, highly-equipped and staffed centre of excellence, supported by very effective emergency transport," she said.
Wales' chief medical officer Dr Tony Jewell said it is for NHS organisations to ensure they have the appropriate skill mix of staff to meet fluctuating demand.
"Emergency departments aim to stabilise patients ready for surgery, usually at the same hospital, but where specialised surgery is required, we would expect patients to be transferred to the appropriate hospital to ensure they receive the best care," he said.
Related Internet Links
The BBC is not responsible for the content of external sites.