St Bride's Bay grave remains recorded by archaeologists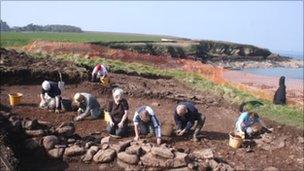 Archaeologists are excavating early medieval remains from a cemetery before they are washed away by the sea.
It is known the site at St Bride's Bay in Pembrokeshire contains graves that date back to the 9th and 10th Centuries.
The graves are close to the edge of low cliffs, and Dyfed Archaeological Trust is keen to analyse their contents before they disappear.
Thursday is the last day of excavation work before the site is refilled.
Mike Ings, of the trust, said: "We're uncovering early medieval cist [stone coffin] graves that have been known in the area for many, many years.
"The bone preservation hasn't been good. The surrounding soils are very acidic so the remains often literally dissolve away."
He added: "They [the remains] will be lifted, returned to the trust then somebody will analyse them.
"Hopefully, we've got enough skeletal remains to send off for further radiocarbon dating."
He said a chapel that once stood at the site had already been claimed by the sea.
"The radiocarbon date that was retrieved from bone taken out of one of the burials protruding from the cliff a while ago was radiocarbon dated to 9th [or] 10th Century, so very early medieval and pre-dating the establishment of St Bride's Church itself, which is intriguing," he said.
"It's known a chapel site was associated with the cemetery, which has long since gone and is assumed to have eroded into the sea back in the 19th Century.
"Any sort of clues we can pick up now are going to be useful."
Mr Ings said the four weeks of work at the site had produced some interesting findings.
"The number of burials in the area that was opened was a surprise," he said.
"It's only a trench 20 by 10 metres, something like that, and within that there has been at least 30-plus graves so they're packed in there," he added.
The remains will be reinterred at St Bride's churchyard once they have been analysed.
The work is being funded by Welsh heritage body Cadw, Pembrokeshire community group Planed and Pembrokeshire Coast National Park.
Related Internet Links
The BBC is not responsible for the content of external sites.