Cardiff nightlife pictures to be exhibited in Poland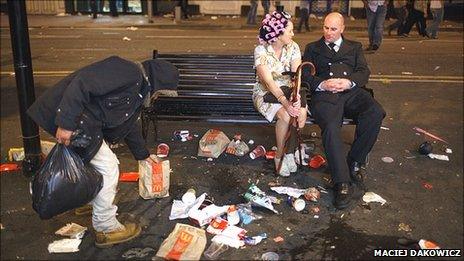 A photographer who has documented Cardiff's "sparky" nightlife is taking his pictures to a new audience in his home city in Poland.
Maciej Dakowicz has spent years photographing fun, fights and fast food consumption in Cardiff city centre.
The 34-year-old, who has lived in Wales for many years, will exhibit his pictures in the city of Bialystok, in eastern Poland, later this week.
His work has attracted attention for its insight into drinking culture.
But Mr Dakowicz, who runs the Third Floor Gallery in Cardiff with two fellow photographers, said he very much enjoyed the capital's nightlife and said he rarely saw any real trouble.
"I don't live in Poland any more so I'm not an expert about Polish culture. They go to bars but you don't see the sparky atmosphere on the streets that you do in the UK," he said.
"In Poland, they just drink and go home. They don't dress up in Superman clothes. It's much quieter - it's not as colourful as here.
"I like the British culture. In Cardiff at least, it's more peaceful - I'm not sure about other cities in the UK. In Cardiff, there's very rarely fighting on the streets."
Mr Dakowicz described himself as a "tourist" in Poland now.
But he said he was excited about exhibiting Cardiff By Night in his Polish home city, which he said was a similar size to Cardiff.
"This exhibition will be in my home town so that's a little bit different. They asked me about it," he said.
"I think they were looking for artists who were from the city itself but working abroad."
He said he hoped people would simply "enjoy" the 40 pictures he had chosen.
"I want to entertain people with these pictures. I will be showing the lighter pictures where they can laugh," he said.
"It's about having a good night out in Cardiff. There are some incidents but they are minor.
"I hope they will enjoy it - I don't want to cause any controversy.
"There's love and there's a fight - there's different things going on but there's a narrative within the story."
Some of the pictures have been shown previously as part of an exhibition elsewhere in Poland.
MaciejDakowicz's work is also being shown at the BigLittleCity exhibition at the Old Library in Cardiff from 14 April until 22 July. The exhibition in Poland is at Galeria im. Sleńdzińskich in Białystok from 15 April-15 May.
Related Internet Links
The BBC is not responsible for the content of external sites.