Aaron Davies's manslaughter conviction quashed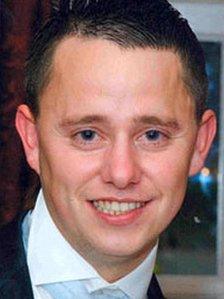 A man jailed for three years for killing a financial adviser has had his conviction overturned by the Court of Appeal.
Aaron Davies, 25, of Greenmeadow, Cwmbran, was found guilty of manslaughter in April 2010.
Gareth Davies, of Llangibby, Monmouthshire, died two days after he was punched on a night out in 2007.
Three judges ruled the conviction was unsafe. The Crown has a week to apply for a retrial.
Aaron Davies had always denied killing Mr Davies, saying he was misidentified.
Amateur footballer Gareth Davies, who was dressed as one of the stars of the 1980s film Ghostbusters, was out fundraising on the night of the attack in Cwmbran.
His friends were dressed in a range of fancy dress costumes for the evening out.
Crown lawyers claimed Aaron Davies struck Mr Davies with a hard punch which sent him toppling backwards, striking his head on the ground during a incident outside the John Fielding Wetherspoons pub in Cwmbran.
Gareth Davies went home in a taxi with friends, but in the morning they were unable to rouse him and he was taken to the Royal Gwent Hospital, Newport. He never recovered.
Expressing "deep concern" about the case, Lord Justice Aikens, sitting with Mr Justice Kenneth Parker and Sir Geoffrey Grigson, said Mr Davies did not have a fair trial.
He said prosecutors' decision not to charge Mr Davies in the immediate aftermath of Gareth Davies' death was "both incomprehensible and indefensible".
Despite earlier having received an unequivocal assurance that he would not be prosecuted, Mr Davies was re-arrested and charged in July 2009, and it was two-and-a-half years after Gareth Davies' death by the time he stood trial in March last year.
Observing that Mr Davies could not be blamed for the delay, Lord Justice Aikens said the failure to charge him in November 2007 was "the result of incompetence on the part of the Crown Prosecution Service and advising counsel".
A charge was not brought against Mr Davies until after an inquest into Gareth Davies' death and Lord Justice Aikens said he had "suffered a major disadvantage as a result of incompetence on the part of the prosecution authorities".
"We must allow the appeal and quash the conviction", said Lord Justice Aikens.
He granted the Crown seven days in which to apply for a retrial.