Meeting to honour Barmouth's Titanic hero Harold Lowe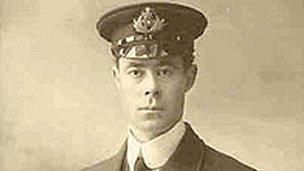 A sailor who helped rescue passengers from the Titanic is the subject of a renewed campaign in his home town.
Records show Fifth Officer Harold Lowe was in the only lifeboat that went back to the sinking ship to rescue people from freezing waters in April 1912.
He was hailed a hero on his return to Barmouth, Gwynedd where it is hoped a plaque will be mounted next year.
Mr Lowe's grandson, John Lowe, 68, attended a meeting to discuss hopes for a memorial.
On 15 April 1912, Lowe dispersed the occupants of his lifeboat among the other boats, and rowed back towards the sinking Titanic, managing to rescue four people still alive in the water.
He also rescued passengers stranded on a sinking inflatable lifeboat, ensuring that everyone alive reached the Carparthia, a passing ship.
Lowe - who was played by Ioan Gruffudd in the 1997 film Titanic - later returned to Barmouth, before moving to Deganwy, Conwy, where he died in 1944 aged 61.
A campaign to erect a memorial to Lowe was started by 15-year-old school girl Maddie Matthews, of Dyffryn Ardudwy.
She first learned about him when watching the blockbuster film.
It has been agreed that a plaque will be unveiled in Barmouth's harbour in April 2012 to mark the centenary of the disaster.
On Saturday, Howard Nelson, founder of the Titanic Heritage Trust, will address a meeting, where memorabilia from the Titanic will be displayed.
During the meeting, plans for the memorial will also be discussed.
John Lowe, the sailor's grandson, is due to attend, and will take his grandfather's naval cap.
Mr Lowe, from Deganwy, said his family were "definitely" proud of his grandfather's achievements.
He grew up on the banks of the River Conwy, and is a retired Merchant Navy captain.
He said: "Like my grandfather, as a youngster I messed around with boats. I think it had a bearing on me going to sea."
Mr Lowe said his grandfather was born in Deganwy, but moved to Barmouth, and in later life returned to Conwy.
He said Barmouth, on the coast, had played a crucial role in his grandfather's decision to go to sea.
Sadly, he said he never met his grandfather, who died when Mr Lowe was just 18 months.
Barmouth mayor, Phil Hill, said the decision to erect a plaque was "long overdue".
He added: "Harold Lowe lived in Barmouth - he learned his trade on the coast here.
"It's about giving him the recognition he deserves. Hopefully it will also highlight the town, as well as the centenary next year."
The meeting was held on Saturday night at the Dragon Theatre, Barmouth.
Related Internet Links
The BBC is not responsible for the content of external sites.