Sunbed ban for under-18s in Wales comes into force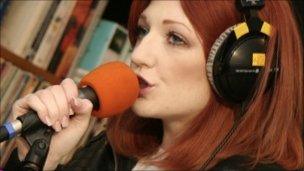 Sunbed business owners in Wales have been warned that they will continue to be under scrutiny under a new assembly government law.
A ban on businesses allowing under-18s to use sunbeds has begun and in October more powers will outlaw unsupervised tanning salons.
The Chartered Institute of Environmental Health (CIEH) said it would carefully monitor the ban.
Cancer experts say the young are particularly vulnerable to sunbed use.
The CIEH, which represents nearly 10,000 environmental health practitioners, said the Sunbeds (Regulation) Act 2010 was a major step forward in protecting the health of young people.
"If it has not tackled the problem we will have to deal with that," it said.
Businesses failing to comply could be fined up to £20,000.
From 31 October it will be followed by Welsh Assembly Government regulations which will include such measures as supervision at all sunbed businesses, and a ban on the sale or hire of sunbeds to under-18s.
CIEH Wales director Julie Barratt said she would like to see sunbeds banned.
She said: "They are dreadful things, but we have to be realistic, that's not going to happen.
"So what we want to do is to get those people who choose to carry on with this risky behaviour fully educated as to the dangers of doing it."
"We will have to see how the new regulations bed in and how much more safely sunbeds are being used," she added.
Dr Andrew Morris, a consultant in dermatology for Cardiff and Vale NHS Trust, welcomed the regulations and warned people of the dangers of sunbed tanning.
"The World Health Organisation has now confirmed sunbed use in the highest risk category for cancer development, alongside tobacco," he said.
"I don't think we can ever justify, on cosmetic grounds, the use of sunbed salons.
"The main concern really is skin cancer development and there's good evidence now that sunbed use does increase the risk of skin cancer, in particular melanoma."
He said young people were particularly vulnerable because ultra violet radiation exposure "accumulates throughout your life so the earlier you get the exposure, the more likely you are to have the problem".
Mr Griffiths said the assembly government had implemented the powers given to it under the act to introduce subsidiary regulations increasing sunbed users' protection.
Other powers in Wales will require sun bed businesses to provide health information and protective eyeware to their customers.
Mr Griffiths urged the UK government to follow Wales' example.
Anton Taylor, shop manager at Sun of a Beach tanning salon in Rhyl, Denbighshire, said he disagreed with unmanned tanning salons.
"I do give a lot of advice about training to people and we train our girls up as well to talk about tanning," he said.
"For example, generally, you can tell by somebody's complexion or skin. If somebody with a very fair skin said 'could I have 12 minutes please', I would say 'I would advise you to have six'."
This week Cancer Research UK warned of a rise in melanomas among young people, citing the death of a 21-year-old Swansea University student as a warning.
Cerys Harding, 21, from Canton, Cardiff, who died four months after diagnosis, was said to be careful to always avoid the sun.
A Cancer Research UK report warned of a tripling in melanoma rates among 15 to 34-year-olds since the 1970s.
Related Internet Links
The BBC is not responsible for the content of external sites.