Wales in Bloom to charge entrants amid funding problems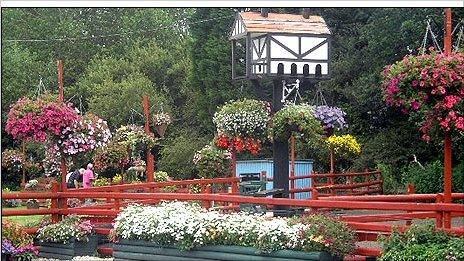 The organisers of Wales in Bloom say the competition will go ahead this year, despite financial concerns.
However, it said it will now have to demand an entry fee from cities, towns and villages taking part.
The Wales in Bloom Foundation, which used to get an annual grant of up to £30,000, said it now received no assembly government funding.
Last year the assembly government said money was provided to help Wales in Bloom become a "self-sustaining body".
The competition, which began in 1969, is popular with many communities across Wales.
But its funding crisis has forced the body's annual general meeting in Newport to agree to charges for competing.
Villages who wish to take part in the event will be asked to contribute £30. For cities, the entry price has been set at £250.
Friday's AGM also agreed to scrap the children's competition in a bid to conserve funds.
Ahead of the meeting, Wales in Bloom chairman John Woods warned: "It's been creeping up for the last couple of years and we've managed it, but the funding that was available in the past, from several sources, is clearly not available today.
"Some years ago there was funding from both Wales Tourist Board and latterly Visit Wales, where there was funding they were accessing from Europe - that's no longer available."
Wales in Bloom said the competition was important to many businesses such as hotels, pubs, restaurants, caravan parks and holiday home sites as it helps with their marketing.
Mr Woods said some local authorities had contributed in the past, but in the current climate that was not possible.
He said the organisers had also been looking at charging entry fees to displays around Wales, and most competitors had agreed.
A competition spokeswoman said the assembly government initially reduced its grant to £5,000 to encourage the foundation to become self-sustaining, but now that had stopped.
At the moment, anyone wanting to take part in the Royal Horticultural Society's Britain in Bloom competition must also be an entrant in the Welsh event.
The RHS said: "We understand their situation and are in discussions with them to see how exactly we can best support them in restructuring the campaign in order to ensure it can proceed from a position of strength," a statement said.
"We also know that there are a number of communities in Wales for whom 'in bloom' provides a framework and support system with great local benefits and we want to ensure that they are able to continue to reap the rewards of the campaign."
While this year's Welsh competition will go ahead, future events are still uncertain.
Sue Lane, chair of Tenby in Bloom, which made the Britain in Bloom final in 2010 and 2011, speaking before the meeting, said the regional competition was "a necessity".
"It's vital to our economy. It's the only economy we have got here, tourism," she said.
"We try to get through to Britain in Bloom every year. It's a great accolade for Tenby and for Wales.
"I don't know where we will go if Wales in Bloom collapses."
A Welsh Assembly Government spokesman said last August: "Wales in Bloom is a private, charitable initiative.
"In the past the Wales Tourist Board, and more recently Visit Wales, has provided a small amount of funding intended as a short-term measure to help the foundation develop and grow into a self-sustaining body.
"Visit Wales no longer funds projects that are not directly related to tourism and as a result, it is not possible to offer the levels of funding that were awarded previously.
"Visit Wales has a statutory duty to promote Wales as a visitor destination and to develop tourism as an industry and economic driver, and this duty must come first."
Related Internet Links
The BBC is not responsible for the content of external sites.