Brecon teachers 'pulled out of class' and told jobs cut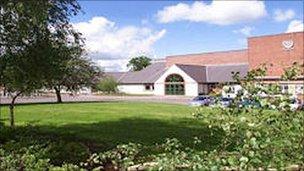 A teaching union has reacted with disappointment after claims two teachers were pulled out of lessons and told they were being made redundant.
The NASUWT said it had concerns about the way Brecon High School had handled the situation.
Union members have staged six one-day strikes against six job cuts, with two posts lost through compulsory redundancy.
Powys council said the school had followed standard procedures.
On Monday, sixth formers walked out in support of the teachers striking at Brecon High.
The pupils said they left a morning assembly, but went on to attend lessons.
Many of the school's 800 pupils stayed at home as the majority of its 45 teachers took action on 17, 30 and 31 March, and on Tuesday, Wednesday and Thursday this week.
But as the industrial action came to an end, the NASUWT confirmed that two teachers had been pulled out of lessons to be told they were being made redundant.
Union official Rex Phillips said: "We are very disappointed with the way this has been handled.
"The teachers should have been told beforehand that a meeting would take place with the leadership team and advised they were entitled to have trade union representation with them.
"However, the central issue is that we believe that no one needs to be made redundant this year because four posts are being lost through natural wastage."
A Powys council spokesman said "standard human resources were followed by the school's leadership team".
He added: "The head teacher was not in school that day due to personal reasons."
The NASUWT has accused the school's governors of financial mismanagement and said they had turned a £100,000 surplus into a projected £650,000 deficit in three years.
The school denies it has failed to take action to address a budget deficit, which it claims has been caused by a reduction in funding.
Head teacher Ingrid Gallagher has said the school has more staff than it needs.
Related Internet Links
The BBC is not responsible for the content of external sites.