Meg Burgess: Prestatyn stolen memorial bench returned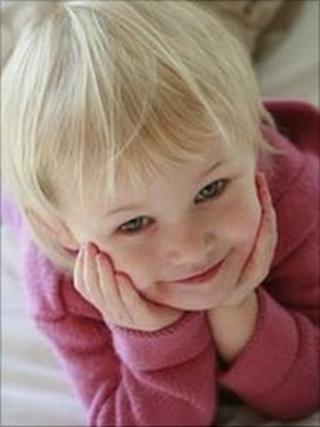 A stolen bench dedicated to a three-year-old girl killed by a falling wall in Prestatyn in 2008 has been found.
Two youths were seen on CCTV ripping the bench from its concrete foundations in a memorial garden at the Tiny Tots nursery.
It was put there in memory of Meg Burgess, but was taken nearly two weeks ago.
Kirsty Jones from Tiny Tots said: "The thieves must have been feeling guilty and decided to return it."
The wooden bench was found by neighbours on Thursday about 200 yards (180 metres) from the nursery, near the entrance to St Melyd Golf club.
Ms Jones added: "The two ladies who found it said it was not there on Wednesday night.
'People's love'
"It seems the thieves had tried to remove the brass plaque as two of its screws were missing. But I'm glad that they seemed to have had a pang of conscience.
"We've contacted the police and we've also told Meg's parents. Like us, they're very pleased that we've got it back."
Meg's parents, Peter and Lindsay Burgess, called the bench theft a "shameful, disappointing crime."
They added: "Such small and sacred sentimental tokens like this memorial garden offer a little comfort and symbolise people's love for Meg."
The family are still awaiting a decision on whether any criminal charges will be brought over the collapse of the wall.