RSPB Wales says farmland bird numbers drop by up to 60%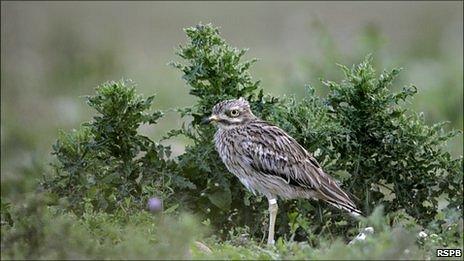 Species of farmland and woodland birds in Wales are in "huge decline" and in some cases decreasing by nearly 60%, says the Royal Society for the Protection of Birds.
RSPB Cymru said starling numbers have decreased by 58% since 1994, curlews by 46% and yellowhammers by 40%.
However, the society, which celebrates its centenary this year, said there were also many positives.
Rare breeding birds like avocet and the bearded tit are increasing in numbers.
The RSPB has published a new report on the state of birds in Wales, in conjunction with other agencies.
It said that some of our "most loved wildlife and wild places still face grave threats and challenges".
"Some farmland and woodland birds are in huge decline and several species will soon, or have already halved in abundance since the Wild Bird Indicator started in 1994.
"For example, starlings have decreased by 58%, yellowhammer by 40% and curlew by 46%".
Another two species giving "cause for concern" are corn bunting and turtle dove, both of which no longer breed every year in Wales.
Ian Johnstone, the RSPB Cymru senior conservation scientist, said the reasons for the decline were not always clear.
In the case of the yellowhammer, research in England showed it was probably because of a lack of seed food in winter.
Research into the decline of the curlew is ongoing, and is thought to have been caused by changes in habitat.
Mr Johnstone said while the wintering population of starlings in Wales had remained healthy, the breeding population has declined significantly.
He added: "At the moment, we have very little idea why. Changes in grassland management is the best guess.
"Hopefully, we will know a lot more in a few years."
However, he added: "The picture is not only one of doom and gloom, as work is being done to improve the future for many bird species.
"It's particularly encouraging to see increasing numbers of some rare breeding birds such as avocet and bearded tit on our nature reserves where the conditions they need can be provided."
'Good monitoring essential'
Positives include, the bearded tit, which has bred at two sites in Wales since 2005, which it had not bred at since 1988.
Avocet, which are still in small numbers after first breeding in 2003, are expected to increase and colonise other sites in Wales.
Ian Spence, secretary of the Welsh Ornithological Society said: "Good monitoring is essential if we are to spot population changes early, and this is only possible through the huge effort that birdwatchers make in counting birds as part of national schemes.
"The State of Birds in Wales report makes these results widely available and is a great tribute to their hard work."
The report highlights work done in areas like Lake Vynrwy, Powys, which is home to curlew.
The species has declined from more than 20 pairs in 1983, to almost none.
To ensure the future of the species, conservation of the curlew will be one of the centenary's fundraising priorities.
Related Internet Links
The BBC is not responsible for the content of external sites.