Welsh charity says firms suffer post-holiday hangover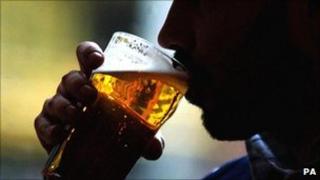 An alcohol charity claims some firms are "at their wits end" as workers go sick after weekends and bank holidays.
Prince William and Kate Middleton's wedding on Friday means many staff will enjoy two successive four-day weekends.
But the Welsh Council on Alcohol and Other Drugs says firms worry this will lead to a rise in workers calling in sick after drinking on their days off.
Post-weekend and bank holiday absences cost companies millions every year, the Health and Safety Executive says.
Wynford Ellis Owen, chief executive of the Welsh Council on Alcohol and Other Drugs, a registered charity which has been tackling substance misuse for more than 40 years, said: "Bank holidays are the worst causes of absenteeism due to alcohol.
"Alcohol has become so normalised in our society and bank holidays have become just another excuse to celebrate and to overindulge.
"Companies are at their wits end and don't know how to handle a situation where there is a problem with alcohol and absenteeism. We offer them help in dealing with the problem.
"There have been lots of published figures on absenteeism. Some companies seek advice from us on how to deal with difficult people who have been warned about their drinking.
"Intervention can involve presenting the person with an ultimatum or doing something proactive about the problem.
"By the time we get involved, things have reached crisis point. It will not be the first time this has happened - there tends to be a pattern. For example, when someone drinks heavily and takes time off work, a pattern emerges."
Alcohol is estimated to cause 35% of all absences from work, up to 14m lost working days in the UK each year.
Ninety per cent of personnel directors from top UK organisations surveyed by the HSE said alcohol consumption was a problem for their organisation.
The Corus steelworks in Port Talbot runs its own specialist drug and alcohol programmes in conjunction with the West Glamorgan Council on Alcohol and Drugs Abuse. The company also employs three drugs and alcohol counsellors.
Corus regional medical officer Dr Sally Williams said: "Our drugs and alcohol initiative has helped around 6,000 employees through a package of training, education and support. It's been a fantastic success.
"We offer in-house rehabilitation and employ three counsellors, trying to keep people in work.
"We make sure that people are safe and understand that if you drink heavily the night before, the alcohol can still be in your body the next day which impairs judgement."
Dr Williams said the main aim was to train employers in "how to have that difficult conversation with an employee."
Now charities are offering help to businesses in Wales by running employee assistance schemes and alcohol awareness courses for staff.
Cardiff-based substance abuse charity Pen yr Enfys has introduced a one-day training course for companies concerned about alcohol-related absenteeism.
"Companies sometimes lose very good members of staff because they're not picking up on alcohol-related problems until it is too late, said director Steve James.
"Good employers should have awareness training or have a policy in place which deals with employees with alcohol problems.