Sham marriages: no new measures by Church in Wales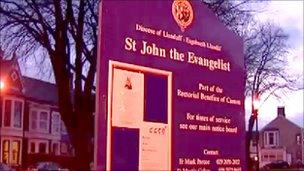 The Church in Wales says it has no plans to follow the Church of England's new measures to prevent sham marriages.
The General Synod's House of Bishops says couples will have to apply for a licence if either the bride or groom is from a non-European country.
In nine months 155 people have been arrested after investigations into UK church and civil ceremonies.
The Church in Wales has urged clergy to be vigilant after a fake marriage was stopped in Cardiff in January.
Under the guidance issued with with the agreement of the UK Border Agency (UKBA), Anglican clergy in England are required to report any couple which insists on having banns read rather than apply for a common licence.
They are also asked to alert the licence-granting authority if they doubt a marriage is genuine.
The Church in Wales said it was working closely on the issue of fake marriages with the UKBA office in Cardiff, which had offered to organise training days for clergy across Wales.
But it said it was not planning to implement the measures taking effect in England.
In a statement it said: "Applications for marriage from foreign nationals have not been that common in our churches and so we have not yet planned to change our regulations.
"However, there has been a spate of applications recently in Cardiff which we are concerned about.
"We are advising clergy to be aware of the issue, to take records of all documentation from couples and to report any suspicions they have to the Diocesan Registrar or the Border Agency for further investigation."
The Reverend Aled Edwards, chief excutive of the ecumenical organisation Cytun (Churches Together in Wales), said they were urging all churches to be vigilant but added that other denominations were less likely to be affected.
"The Church in Wales has a civic responsibility to marry people resident in their parishes, whoever they are," he said.
"Most of our churches are congregational - they tend to know who they are marrying."
In January, two Nigerian nationals - a 52-year-old woman and a 51-year-old man - were arrested at St John's Church in Canton, Cardiff, and were transferred to an immigration removal centre pending their deportation.
The woman, who planned to marry a Portuguese national, had provided false identity documents to the church authorities ahead of the wedding.
She was later confirmed to be a failed asylum seeker who had remained in the UK illegally when her claim for protection was turned down.
The Nigerian man was also confirmed as a failed asylum seeker while the Portuguese groom, 50, received a warning.
Related Internet Links
The BBC is not responsible for the content of external sites.