PowerPlay Golf: Celtic Manor Resort launches new game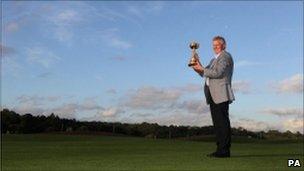 Six months after hosting the Ryder Cup, the Celtic Manor Resort at Newport is to host a new version of golf.
Organisers hope PowerPlay Golf hope could transform the sport in the way that Twenty20 has done for cricket.
The nine-hole game features an extra flag on each green with which golfers can try to score double points.
"We're not trying to replace 72-hole traditional golf," said co-founder Peter McEvoy ahead of an inaugural competition at the resort on 30 May.
Mr McEvoy told BBC Radio Wales that the game, involving 12 competitors, had been designed after research suggested people were avoiding playing golf because it took too long.
The new format has been trialled in 30 countries at 400 golf clubs, he said.
"We needed to check it worked, check the rules and, for TV purposes, check that whole event, the 12-person field, could be encapsulated in a three-hour time frame.
"Most sports are over in three hours. If it's a rugby match, baseball match or American football match or whatever it's in that sort of time chunk. So we are trying to create a golf product that's similar."
Mr McEvoy described PowerPlay Golf as a risk and reward short form of the game akin to Twenty 20 cricket, which has been very successful in attracting new spectators and income to cricket.
"It's not an either/or, it's something which can sit alongside the mainstream game," he said.
"It's a nine-hole game. The distinguishing feature is there are two flags in the green. There's an easy flag and a hard flag, which is the PowerPlay flag.
"Golfers are allowed a limited number of attempts at the PowerPlay flag and if they are successful they get double points. "
Some of the top names in golf will be playing, with Paul Casey, John Daly, Graeme McDowell, Gary Player, Ian Poulter and Colin Montgomerie already confirmed for the 30 May event.
McDowell said: "Creating a three hour risk-and-reward shoot-out live for TV is a great idea and I am sure we will all be going full-on to win."
Montgomerie, who captained Europe to Ryder Cup victory at the Welsh course in October, gave his approval to PowerPlay.
"Stand by for something very special, golf around the world is about to discover a new dimension," Montgomerie said.
"I've always been an advocate for faster play and this is the perfect form for that - by the time a golfer leaves his house and then returns it's about six hours. That's a long time and if we can halve that then great."
Related Internet Links
The BBC is not responsible for the content of external sites.