Mumbles pier and RNLI lifeboat station plan backed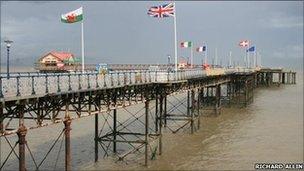 Plans to restore Mumbles pier and build a new lifeboat station have been backed by Swansea council.
The £3m project will see the existing pier rebuilt on its original pillars, with many Victorian features retained.
A station for Mumbles RNLI will be built at the end of the pier to house the new Tamar lifeboat.
The project is linked to a second planning application for a £39m visitor and tourist destination, which will not be heard before the end of May.
This will include a hotel, apartments and a retail development around the base of the pier and on Mumbles headland.
The plans for the new lifeboat station were recommended for approval at a planning meeting on Thursday.
Work is set to begin next spring, with completion expected by autumn 2014.
The project for the £39m visitor and tourist destination has divided local opinion, with more than 1,000 people signing a petition against them, and an online campaign backed by more than 1,750 in support.
They will go before councillors within the next few weeks.
The application to refurbish the pier and build the lifeboat station is a joint one by pier owners Ameco and the RNLI.
The boathouse would be home to the RNLI's bigger Tamar class boat, and it argues Mumbles is the most suitable launched for the craft as it will be able to be deployed more quickly.
An alternative use is to be found for the existing lifeboat station which cannot be demolished as it is part of the Grade II-listed structure.
The council planning report said that together the refurbished pier and boathouse would be a "significant new tourist attraction".
The Mumbles station has been in operation since 1863.
Related Internet Links
The BBC is not responsible for the content of external sites.