Flintshire teacher Susan England's £8,000 fraud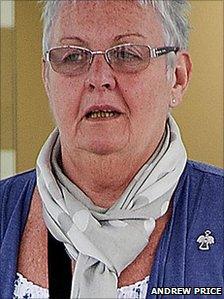 A respected teacher, who admitted a £8,000 fraud from an after-school club, has been given a community sentence.
Deputy head Susan England, 58, admitted the charges involving the club at Ysgol Bro Carmel near Holywell, where she taught for 35 years.
England was said to have been in debt and had suffered from depression following the death of her husband.
She was given a 12-month community order at Mold Crown Court and will be tagged for five months.
Judge Dafydd Hughes said that it was "a series of very serious frauds over a significant period of time".
He said that because of the financial difficulties England got into, she helped herself to substantial sums, in excess of £8,000.
"You were put in a position of trust and you betrayed that trust," he told England, who was treasurer of the after-school club in which parents paid fees for their children to be cared for out of school hours.
"You seriously let yourself down. You were a person of exemplary character before these offences were committed."
She had also betrayed the trust of another teacher, a co-signatory on the cheques she wrote, the court was told.
England, of Prestatyn, Denbighshire, was said to be £15,000 in debt because of depression and "comfort shopping" after the death of her husband.
Patrick Williamson, defending, said a school inspection report had once singled England out as a role model for others in the locality.
But there had been a substantial fall from grace and she now rarely went out in case she met parents or others at the school, the court heard.
Judge Hughes said he had read references including one from a former head teacher at the school who spoke of her "in glowing terms".
"That is the tragedy of this case - your fall from grace has been substantial," he told her.
England admitted seven fraud charges and asked for 33 similar offences to be taken into consideration.
The judge gave her a 12-month community order and tagged her for five months to ensure that she remained indoors between 1900 and 0700.
There will also be a financial investigation under The Proceeds of Crime Act to see how much of the money, if any, can be recovered.