Otter found in Brecon Beacons house returns to wild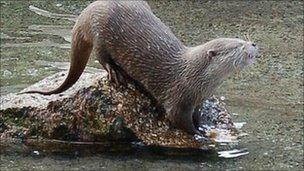 A young otter has been released back into the wild a year after she was found wounded in a house, under the stairs.
The six-month old female was emaciated and suffering from bite wounds and an infected foot.
She was discovered at the home of Moira Banks in the Brecon Beacons, who tempted the creature out of her hiding place with a trail of prawns.
She was handed over to the RSPCA, which nursed her back to health.
Animal lover Mrs Banks heard a "scratchy" sound coming from under the stairs one morning in April last year, and was surprised to find a furry face staring back at her when she shone a torch into the darkness.
Using a trail of prawns, the otter was tempted out from under the stairs and into a cat box.
Once inside, Mrs Banks called the RSPCA and the otter was taken to the charity's West Hatch Wildlife Centre in Somerset.
Paul Oaten of the RSPCA said: "It is not unusual for otters to go into houses when they are in as bad a condition as this little one was.
"She was very lucky to find her way into the house of someone so quick thinking, and it is great that she made enough progress to be released back where she belongs nearly a year to the day after she was found."
Mrs Banks, her husband and daughter joined the RSPCA to release the otter back into a river in the Brecon Beacons.
She said: "It was great to see the otter released - she was so much livelier and feistier after the year of RSPCA care."
Related Internet Links
The BBC is not responsible for the content of external sites.