Segontium Roman Fort, Caernarfon, 'at vandalism risk'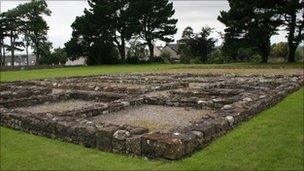 A fort which was the most north-westerly outpost of the Roman empire is at risk of damage from drunken youths, it is claimed.
Segontium Roman Fort in Caernarfon, Gwynedd, is being invaded by large groups who have set fires and smashed bottles at the tourist attraction.
A councillor fears there could be lasting damage unless action is taken.
Owner Cadw is aware of "recent problems" at the fort, which was occupied for 300 years.
Town and county councillor Roy Owen said: "I need people to realise things can get out of hand.
"It's only stones but they [the youths] could start chipping away, start kicking and you lose a bit of your history.
"It's very important. When people speak of Caernarfon, you've got the castle and you've got the Segontium Roman Fort. A lot of people come."
He said the litter could put off tourists from visiting the fort, which was occupied from 78 AD.
"It's coming to the season when visitors are coming and if they see this kind of stuff there, they're not going to come again are they?" he said.
He added that he was also concerned about the young people themselves, who appeared to be gathering to drink large quantities of alcohol.
Mr Owen has alerted Wales heritage body Cadw, which manages the fort, and also contacted police.
Cadw said it was aware of the "recent problems".
"We are concerned by the anti-social behaviour that is occurring in and around the Roman fort and we are talking to the local police to see what we can do to help them," said a spokesperson.
North Wales Police said the neighbourhood policing team had held discussions with residents about the issue.
The fort was built by the Romans when they spread their conquest of Britain into Wales.
It is believed it once held a regiment of up to 1,000 auxiliary soldiers.
Related Internet Links
The BBC is not responsible for the content of external sites.