Buffalo cam to give glimpse of Machynlleth reserve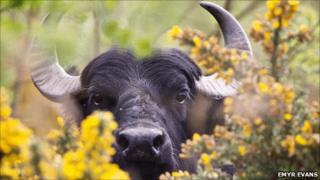 A large water buffalo living on a Powys nature reserve is set to give visitors an animal's eye view of the attraction.
Montgomeryshire Wildlife Trust plans to strap a small camera to the horns of the half-tonne beast.
The resulting video will be shown at the visitor centre at Cors Dyfi reserve, near Machynlleth, which is covered by bog, swamp and woodland.
The trust has only two buffalo at the moment, but is set to buy more for the start of the scheme early next month.
Buffalo are more hardy than conventional cattle and are being used to control the scrub, gorse, birch and willow that grows on the site.
Emyr Evans, who is behind the project, plans to play the buffalo cam video at the reserve's visitor centre.
The buffalo's habitat near Machynlleth is made up of open water, swamp, bog and wet woodland.
Emyr Evans, who is behind the project, said: "When we've tried to video the animals in the past they are aware we are there, so we don't see any natural behaviour."
"We don't have any buffalo at the reserve at the moment because there's nothing much for them to eat during the winter.
Muddy wallows
"My only concern is that the buffalo will shake the camera off, so I intend to strap a dummy camera on before the animal arrives at the reserve so it can get used to it."
Mr Evans has used cameras before to capture nesting ospreys and birds feeding at the reserve.
"The camera battery only lasts about three or four hours. The animals are all quite tame, but I'll have to attach the camera to the most placid," he added.
The animals have been used by other wildlife groups to manage rough land.
At Cors Dyfi, as well as helping to control the gorse and scrub, the buffalo are creating muddy wallows, and breaking up the ground with their hooves.
This makes ideal habitats for birds such as lapwings, Montgomeryshire Wildlife Trust has said.