Royal Wedding: The other Catherine Middleton prepares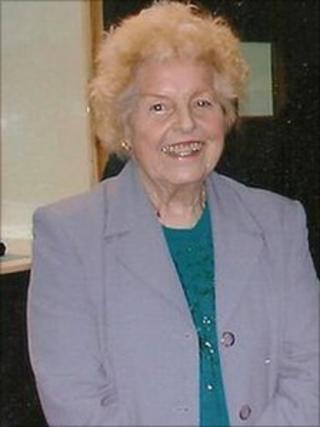 They may share the same name, but Catherine Middleton of Porthcawl has a rather more leisurely 29 April in mind.
Mrs Middleton, who describes herself as a "senior citizen", plans to spend the day watching every minute of the Royal Wedding on television with her family at her daughter's house.
This particular Catherine Middleton, who even shares the same middle name of Elizabeth, is a big admirer of her namesake and was delighted by her engagement to Prince William.
"I think she's absolutely wonderful. To get a prince... I wish I had!" she said.
"I think she's done very well for herself."
Mrs Middleton said she had always supported the Royal Family and believed they were a big asset to the country.
"I like the Royal Family. For me, we couldn't do without them," she said.
"They cost us a lot of money but why not? Everything costs a lot of money these days."
She said she had always made a point of watching previous Royal Weddings over the years, and people from around the neighbourhood would also drop in for other events in the Middleton household.
"We had the first television in the area when my husband was alive in Porthcawl," she said.
"I've always been interested in royalty and my parents were.
"Whatever was on, if people didn't have televisions, we invited them in.
"If there was a football match or something on, we had a room with all the benches across and we would have all the children from the village."
Mrs Middleton, whose husband Douglas died in the 1950s, was well known in the Porthcawl area, having run a sweet shop and antiques shop and, later, a school of motoring.
Shops and cafes
Before that, she was in the Navy, Army and Air Force Institutes (NAAFI), which ran services such as bars, shops and cafes at British military bases and on board Royal Navy ships.
"I haven't been idle!" she said.
Mrs Middleton also has rather more experience of engagements than the current Ms Middleton.
She said: "Since Douglas died, I've been engaged eight times since and they all wanted to move in with me, but I said no.
"I wanted to keep my house for myself. They all thought they were going to come in and live with me!"
Mrs Middleton, whose friends call her Kay, had one final good luck message for the royal couple before the big day.
"I wish them every happiness - it's a big thing getting married," she said.