Labour 'will protect Wales from UK cuts' says Miliband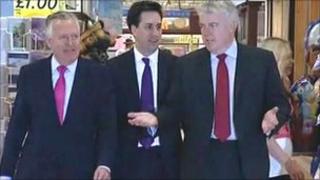 Ed Miliband says he will be happy with whatever his Welsh party leader Carwyn Jones decides if Labour needs a coalition after the assembly election.
Campaigning in Wales, the Labour leader said his party offered an alternative to UK government spending cuts.
Meanwhile, Plaid Cymru said it was the only party that could deliver for the whole of Wales and the Conservatives said a change was needed from Labour.
Lib Dem leader Nick Clegg said Labour was treating Welsh people "like fools".
On the campaign trail in west Wales, Mr Miliband said Mr Jones had shown "a real alternative to what the Conservative-led government at Westminster is offering".
Asked if he would be happy with a Lib-Lab coalition if his party falls short of a majority of seats in Cardiff Bay on 5 May, Mr Miliband said: "I will be happy with any decision that Carwyn Jones makes after the elections.
"And he's fighting for every vote and it's right that we do, but then we will see what the election outcome is and then he will make the decisions and I'm sure they will be the right decisions, most of all for the people of Wales."
He added: "I would say make decisions which serve the people of Wales best and he will make the judgements as Rhodri Morgan did after the last elections about how the people of Wales can best be served by a stable government which can take Wales forward."
Mr Miliband said Labour would not have cut public spending so far and so fast as the Tory-Lib Dem coalition in Westminster.
Having served in coalition with Plaid since the last assembly election in 2007, Welsh Labour leader Mr Jones has said a "comfortable working majority" is possible for his party on election day.
Deputy Prime Minister Mr Clegg said: "I think Ed Miliband is treating the Welsh people like fools. Everybody knows there have to be cuts and savings."
He said the UK government's attempt to balance the books "is controversial and of course I accept that many people won't like it. I don't like it. I didn't come into politics to announce cuts and savings".
'Stark contrast'
He said Labour's deficit reduction plans would have cut "almost exactly the same amount in public spending this year as we are having to".
Mr Clegg was speaking during a visit to the Vale of Glamorgan to highlight Lib Dem policies which he said would give more control to disabled people "who for too long have just simply been told to put up with whatever care they have received from Labour and Plaid in Cardiff".
He added: "I think it's very cynical of Labour and of Ed Miliband to try to pretend that this Welsh election is on matters which are not to do with Wales. This is for the Welsh assembly.
"People are not daft, they know the election is about how Wales can do better for itself."
Campaigning in north Wales, leader Ieuan Wyn Jones said Plaid Cymru had "worked tirelessly" to make sure people in all parts of Wales were listened to.
"This is in stark contrast to the previous Labour government's focus on the immediate area around Cardiff," he said.
Plaid was committed to maintaining business rate relief for small and medium-sized companies, he said.
"Labour should not be rewarded for their failure to serve the whole of Wales," he added.
Conservative assembly leader Nick Bourne said Wales received "very, very good attention, very good care from Westminster".
The UK government planned to electrify the Great Western railway line between London and Cardiff and had provided Wales with "a better budget settlement than England".
Speaking at a recycling business in Skewen, near Neath, where he was highlighting Tory policies to create a sustainable economy, Mr Bourne said: "We need a strong presence in Cardiff Bay.
"We need, really, a change from the Labour Party which has let Wales badly over the last 12 years."