Barcud TV studio in Caernarfon to be climbing centre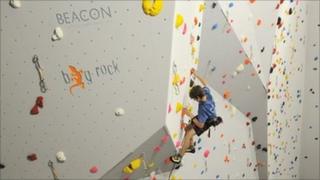 A former television studio centre left vacant when its owners went into administration is set to become a new indoor climbing centre.
The Barcud Derwen facility in Caernarfon, Gwynedd, closed last June with the loss of 35 jobs.
Climbing wall operator Beacon Climbing says it now plans to relocate to the site and build a new state-of-the-art indoor complex.
The company says the new location will help it expand its business.
The climbing centre firm has been based a few miles away at Ceunant near Llanberis for the past 17 years, employing about 10 staff and other freelance instructors.
However, the current lease on its centre is due to expire.
"We wanted to move so we could expand, and the Barcud site came up," explained Gill Lovick, who set up the firm with climbing enthusiast and instructor Steve Mayer.
"It is ideal for us. It's is going to be higher than our current walls, and will mean we can improve our facilities for visitors.
"We want it to be one of the best climbing walls in the UK when we have finished."
The former studio complex is on the Cibyn estate in Caernarfon, which the climbing company hopes will make it more accessible than its current location.
"Where we are now, we don't get any passing trade. The buses only come to the village twice a day - some of the locals didn't even know that we existed," said Ms Lovick.
The director said its offer for the site had been accepted by the administrators handling the affairs of the former Barcud Derwen company.
A planning application for the new climbing centre is now also being considered by Gwynedd council.
The new centre will include a 16m (52ft) high roped climbing wall, a 4.5m (15ft) high bouldering area, low level traverse areas suitable for all abilities, including special needs, and what the company describes as a 'special adventure area' for new activities.
The company also manufactures and fits climbing walls across Britain, and hope they will also be able to move their current production unit to the same site as the new complex.
"It's a massive open space. At 16m high at its apex, it is 4m higher than our current wall, and makes it much more attractive to climbers," added the Beacon's director.
If the planning and purchase hurdles are overcome in the next few weeks, the company says it hopes to complete the new centre over the summer, ready for its winter season, which is traditionally the busiest trading period for climbing centres.