Four Rhondda rugby fans scoop £4m lottery win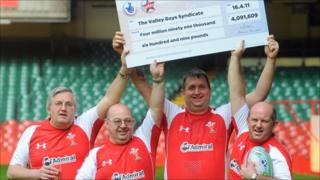 Four rugby fans from the south Wales valleys will splash out on tickets for the World Cup in New Zealand after a £4m lottery win.
The four friends have scooped £1m each after their syndicate, known as The Valley Boys, matched Saturday's draw.
Terry Roberts, 50, and Mike Williams, 45, Lance Gifford, 50, and accounts manager Gerwyn Jones, 48, have been rugby club friends for 20 years.
Their winning ticket was one of four that shared the £16m rollover jackpot.
"The most we'd ever won was £80 a few years back so when I saw we had matched six numbers, I didn't believe it," said Mr Roberts, who has managed the syndicate for his friends since 2003.
"I dragged my wife out of bed so she could check the ticket for me.
"I knew Gerwyn would be the only other member of the syndicate up at that time in the morning so I called him up to tell him but he didn't believe me so I had to go round to his house and show him the ticket.
"We then went round to Mike's house and banged on the door till he got up to tell him the news and then did the same to Lance.
"Once everyone knew, we went back to mine for a party."
The syndicate won with a lucky-dip line of randomly selected numbers, bought at a shop in Ferndale, Rhondda.
As well as a planned trip to the Rugby World Cup this autumn, the four winners say they will be buying new cars and paying off their mortgages.