Wrexham FC: 'No further funds' for club from owners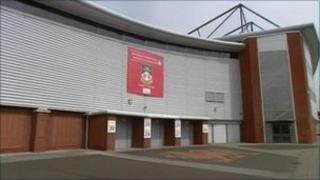 The owners of Wrexham FC say they are unable to put any more money into the club, which faces a £200,000 winding up petition.
A club statement said Ian Roberts and Geoff Moss had already invested millions and were "unable to continue".
Wrexham FC was issued with a winding-up petition by Her Majesty's Revenue and Customs (HMRC) last week.
The club said it was concerned it may be barred from the Conference play offs if the tax bill was not settled.
The directors issued a statement on Wednesday evening to "set out the current financial and operating position of Wrexham Football Club" and "to clarify the urgency of our current plight".
"The owners are obviously heavily committed to Wrexham Football Club," it said.
"However, they are not able to finance the club any further. Contrary to what some may think, they do not have any further available funds."
The statement concluded: "In summary, the owners, Ian Roberts and Geoff Moss, have already invested millions of pounds in their support of WFC and are unable to continue."
The club said various attempts to sell the club had been made, with some still ongoing, but no potential investors had yet been willing or able to commit to a deal.
Businesswoman Stephanie Booth has previously said she was weeks away from making an offer for the club.
She stated that in the short term, Wrexham Supporters' Trust (WST) should use money it has raised to pay the bill.
Both Ms Booth and the trust are going through the club's accounts with a view to taking it over.
WST has said it was also considering putting in its own bid.
But the club said: "Whilst the team is on the verge of a potential promotion [to the Football League], it is unfortunate that the funding seems to have now reached an end.
"We are concerned that the Football Conference may prevent Wrexham Football Club from participating in the play-offs, should the HMRC debt not be paid in advance (that is by 6 May 2011).
"Obviously, should the company be wound up or go into administration, it could lose its current league status and any phoenix club may be unable to apply to enter the English football hierarchy."
The statement said the only other alternative was to sell the Racecourse Ground - with some parties "already showing an interest".